Familink is the best family picture frame in the market. Perfect for every family member, most especially for grandparents usually left at home. Simply share photos with the one the loved one.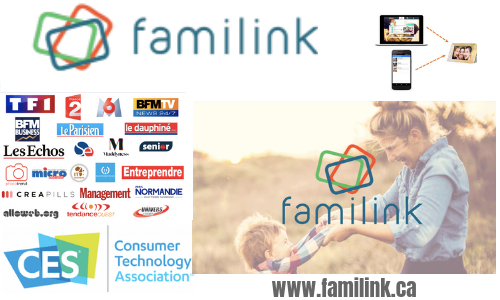 Québec, Canada - December 21, 2018 /PressCable/ —
With Familink a picture worth more than 1000's of words. Yes this is the only way to share photos with your grand parent and family members when away or travelling. One of the best Digital 3G Family Picture Frame and the newest and most innovative picture frame suitable to share your life withe one you love. It is a perfect gift or personal belonging that can be keep as a treasure forever. With a clic all cool photo or digital images are effortlessly shared via the Familink App and social media like Facebook. Own a digital picture frame that is equipped with 3G sim card and works on major telecommunications companies worldwide. View photo frame images sent from your computer, smartphone or tablet, as well as your smartwatch or any gadget with internet capability. Familink Picture Frame works on Wi-Fi too and is easy to use and simply just a plug-and-play.
Digital cool photo frames are user-friendly and even elders can easily use Familink by simply plugging into an electrical socket. Now, parents and grandparents can watch digital photos at home with cool photo frames. Favorite photos can be ordered and produced as hard copies through Familink to help preserve memories forever. Sending images or photos via a mobile app is made easy from the photo gallery of a smartphone or new photo taken from a computer to a web page. How does it work? A Familink 3G great family picture frame connects automatically to the internet via a 3G connection. Familink digital photo frames are installed and specifically configured internationally and multi-operator SIM-card ready. Upon ordering digital image frames, an account is set up. Install the mobile app or use the website of the company to send photos to the digital frame so family members can view them anywhere and anytime. Also, the Familink Cloud saves and archives images without issues.
From the very first time the Familink photo frame is ignited, it's ready to go, perfect for the whole family. Sending multiple photos to any person in the family and sharing pictures is now made possible by just entering an email address. Familink 3G family picture frames are simply plugged for permanent viewing and batteries are already included for up to 3 hours of operation. Digital cool photo frames can also keep for a while in case of power outage. No interruption of uploading photos and families have plenty of time to bond and enjoy, reminiscing the best memories, savoring the new life experiences, and sharing happiness. Familink is the most innovative photo frame today, allowing sharing an unlimited number of photos over a Wi-Fi connection using a 3G sim card connection.
Familink the best Digital 3G Family Picture Frame is very simple to use and is a perfect gift for grannies and parents but also to the business class or working force who live far away from home. The digital age makes people busy so advanced 3G picture frames help people reminisce and savor every moment with live photos viewed seamlessly. The company has been in the business for years now, making the family photos sharing a new way of loving each others experience and bonding moments more memorable and meaningful. Come and visit us
Contact Info:
Name: JIRI KOSLA
Email: Send Email
Organization: AsWeShare inc.
Address: 9400 Rue de Vérone bur 4401 - CANADA 369 Sente Sainte Venise Wood Guillaume FRANCE , Québec, Québec G2B 0G3, Canada
Phone: +1-514-907-8777
Website: https://www.familink.ca/en/
Source: PressCable
Release ID: 462866