Members of IMN attend local monthly meetings that bring in a local business expert that shares their strategies and secrets to success. On 18th of July the Keynote Speaker is Marcu Buchelo, CEO of LikeMag, Europe's fastest growing digital agency tailormade native advertising.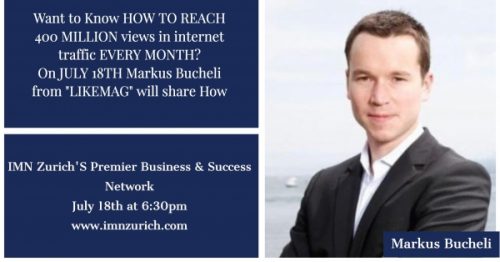 Zürich, Switzerland - July 17, 2017 /PressCable/ —
If the business undertakings have hit a major snag, run out of fresh ideas for powering it up, or perhaps there is a need to start a business and to surround it with the experts who know how to take anyone to the next level, then attending an IMN Zurich live event is the solution. IMN Zurich, an Exclusive Business Network in Switzerland, is unique and a notch above the rest, because by participating in the network, members are encouraged to "start unknown, and finish unforgettable".
IMN is a global network that starts within the local Zurich Community. IMN has chapters all over the world and the platform gives the tools to grow businesses in a positive and supportive community of business owners and investors of different calibers who are looking to grow their business, partnerships, to find deals, and/or invest in new business ideas.
The members of IMN get access each month to a big assortment of educational materials and have live access to keynote local and international speakers that are business experts/millionaires who share strategies and secrets to their business success with all of the members.
This July 18th IMN Zurich is happy to present Keynote Speaker CEO of LikeMag Markus Bucheli. LikeMag is the fastest growing European digital agency that offers tailormade native advertising solutions from concept to editorial and video as well as placement and publishing with an impressive growth rate. Markus Bucheli will share with all members "How they are able to reach over 400 MILLION internet content views EVERY MONTH!"
Join the crowd on the 18th of July at 6:30pm at the Holiday Inn Zurich Messe, Wallisellenstrasse 48, 8050 Zürich.
Topics being shared at the events are:
– How to Market a business
– Fast ways to Increase sales
– Design a plan to get a business started
– Build a lifestyle Business
– How to Build a powerful online brand
– Use the power of the internet to generate more leads
– Build a powerful online presence
– The up and coming trends for business success
– How to become the leader in any industry
– How to use social media to build a big following
– How to sell more products and services
– How to think like successful entrepreneurs
– Rules to engage in business
– Learn to avoid the most common mistakes in business
– And so much more…
Come and join Entrepreneurs, Business Owners and Investors this 18th of July at 6:30pm. Make 2017 the Best Year Ever by Attending.
Contact Info:
Name: Valeria and Cedric Vinclair
Email: office@imnzurich.com
Organization: IMN Zurich, Switzerland's Exclusive Business Network
Address: Zurich, ZH 8001, Switzerland
Phone: +41 76 434 9724
For more information and registration please visit:
Contact Info:
Name: Valeria and Cedric Vinclair
Email: office@imnzurich.com
Organization: Intelligent Millionaires Network Zurich
Address: Zurich, Zürich, ZH 8001, Switzerland
Phone: +41-76-434-97-24
For more information, please visit http://intelligentmillionairesnetworkzurich.com/
Source: PressCable
Release ID: 217883