Esty's Auto Center, a full-service car and truck service & repair business serving Longview, and surrounding areas, reminds drivers of four silent symptoms of car problems.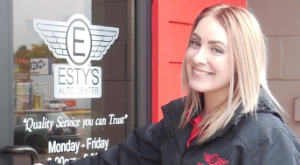 Longview, United States - November 17, 2018 /PressCable/ —
Esty's Auto Center in Longview, Washington is issuing an important safety reminder in time for winter's cold, wet weather. According to David Vandre, General Manager of the full-service car and truck repair business, there are four silent symptoms of car trouble that car and truck owners should not ignore, particularly as winter weather takes hold. "There is no better time to schedule routine servicing and preventative maintenance, than at the start of winter." This is especially true, according to Vandre, if your car is exhibiting any silent symptoms of problems.
"Most car owners know that a rattle, squeak, vibration, or knocking sound coming from their car means it's time to get it into the shop. But there are silent warnings that cars need to be serviced as well," Vandre added.
The four most common silent symptoms of car trouble that can compromise the safety of the driver, passenger, and other drivers on the road include:
Check Engine Light
If the check engine light is on in your car, the solution may be as simple as tightening the gas cap. However, this light may also indicate more serious issues, which require the expertise of a top automotive service and repair shop. "Damaged spark plugs, catalytic converters, oxygen sensors, and airflow sensors can all trigger the check engine light," said Vandre. "Don't risk driving with this light on in winter weather. It could be a sign that the car is at risk of overheating, which could then leave you stranded on the highway in the cold. It's better to be safe than sorry."
Inability to Accelerate
Drivers who have ever experienced an inability to accelerate their car, know how dangerous it can be. "An inability to speed up, particular when merging into fast-moving traffic poses a significant hazard to the driver, their passengers, and to others on the road," said Vandre. Without having the vehicle serviced, it's challenging to pinpoint the specific cause, but common causes include problems with spark plugs, fuel injectors, airflow sensors, or the fuel pump. Vandre recommends taking the car in for service as soon as possible after experiencing a difficulty in acceleration.
Smoke from the Tailpipe
Smoke coming from the tailpipe (exhaust) is different from the steam that can be seen coming from the exhaust in cold weather. "If you see smoke coming from the car's tailpipe, it should be serviced by a top automotive repair shop. Different colors of smoke coming from the exhaust help our expert auto technicians at Esty's know where to start looking for the problem. Gray smoke often indicates transmission fluid may be burning. Bluish tinted smoke may signify leaking coolant or an oil problem," Vandre said. In any case, it's important that drivers don't ignore this silent symptom of a problem.
Gasoline Smell Inside the Car
Unless you've very recently filled your tank with gasoline, you should never smell fuel in your car, according to Vandre. "The smell of gas may be caused by gasoline getting on your gas cap, for example. But if you haven't filled up recently and you smell gas in your car, it is crucial that you act. There could be a gasoline leak, which can result in a fire. If you can see gasoline leaking, call your local Fire Department. If you cannot see gasoline leaking, it's best to call an expert auto technician before you even decide to drive the car to the shop. Gas is highly flammable and presents a real safety hazard to anyone in the vehicle."
Longview, WA based Esty's Auto Center is a full-service automotive service and repair facility located at the corner of 15thAvenue and Florida Street in downtown Longview. Same day service is often available. For more information, visit www.estyautocenter.comor call 360.200.6948
Located in downtown Longview, WA Esty's Auto Center serves car and truck owners from Longview, Kelso, Castle Rock, Rainier, Clatskanie, Toutle, Cathlamet, St. Helens, Toledo, and Winlock.
Esty's Auto Center's services include oil and lube services, preventative maintenance tune ups, transmission repair, brake service and repair, engine service and replacement, tire rotations, suspension service, and much more.
Contact Info:
Name: Taylor McCormick
Email: Send Email
Organization: Esty's Auto Center
Address: 1064 15th Ave, Longview, WA 98632, United States
Phone: +1-360-200-6948
Website: http://estysautocenter.com/
Source: PressCable
Release ID: 445408