Essential Oil Labs has officially unveiled the final group of launches in its all-new EOL Beauty range. The brand will release hand and body lotions infused with essential oils this week.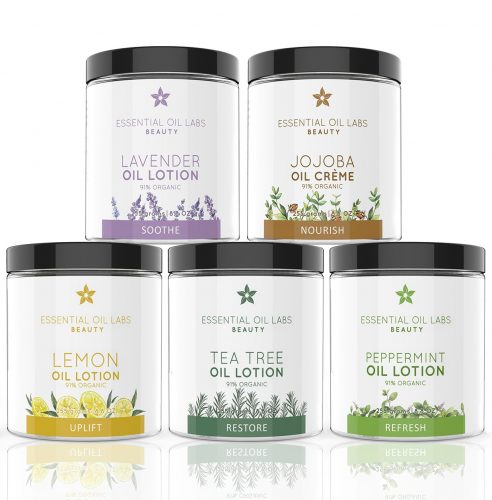 New York, United States - April 17, 2018 /MarketersMedia/ — Essential Oil Labs, a California-based family-run company, is excited to announce the launch of their five new aromatherapy hand and body lotions to the EOL Beauty collection. This soothing multi-use product is the fourth launch in the brand's new body-care collection, and has been met with an outpouring of positive feedback from customers.
From Essential Oil Labs Co-Founder Quinton Jeffries, "The goal with these oil-infused lotions is to offer intense moisture and hydration to the skin along with a true aromatherapy experience. You can choose from lavender, lemon, tea tree, peppermint or jojoba to help soothe, restore, uplift or refresh the mind AND body," says Jeffries.
These five cream lotions are created with natural ingredients that help to promote your overall wellness. The formula is rich yet non-greasy to leave your skin feeling soft and supple, and smelling fragrant. These products present an opportunity to indulge in an aromatherapy experience every single day.
Available in the range is Tea Tree Oil Lotion, Lavender Oil Lotion, Lemon Oil Lotion, Peppermint Oil Lotion, and Jojoba Oil Lotion. Daily use of these aromatherapy lotions may help to reduce stress, boost mood and energy, as well as heal the skin.
All EOL Beauty products are backed by research, and they do offer a 100% satisfaction guarantee on every order. This review from a recent Amazon customer reflects much of EOL's loyal customer base, "Love love love these products. Great quality, great price, speedy service."
Essential oil enthusiasts and those interested in all-natural personal care products are invited to "Like" Essential Oil Labs on Facebook to join their community, and to have access to new product releases and promotions. Says Jeffries, "…our aim is to make our Facebook page a forum where our customers can ask questions, help to educate each other and form a community. We're all about getting to know our customers on a personal level, and we love hearing about their wellness journeys."
Amazon shoppers looking for the new EOL Beauty Aromatherapy Lotions can purchase them directly through Amazon.com starting April 17th. To celebrate the launch EOL us offering customers a full 20% discount off these new products with the code "EOLMOIST20" when purchasing through Amazon.com. This promotional coupon is valid until April 30, 2018.
All orders will be backed by EOL's 100% satisfaction guarantee.
Contact Info:
Name: Quinton Jeffries
Organization: Essential Oil Labs
Website: http://www.essentialoillabs.com
Video URL: https://www.youtube.com/watch?v=E3lmwASR6SM
Source URL: https://marketersmedia.com/essential-oil-labs-launches-new-aromatherapy-lotions-on-amazon/327468
Source: MarketersMedia
Release ID: 327468