Essential Oil Labs has received high-praise for its recent expansion into the topical beauty world with a new line called EOL Beauty.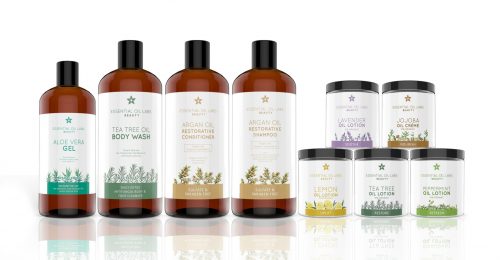 New York, United States - March 13, 2018 /MarketersMedia/ — Essential Oil Labs, a California-based family-run company, is taking a big step and expanding into the topical beauty niche. Its brand new and highly coveted collection entitled EOL Beauty, is set to include five new aromatherapy moisturizers, a shampoo and conditioner, a body wash, and soothing body gel.
From Essential Oil Labs Co-Founder Quinton Jeffries, "Over the past few years we've been very humbled by the overwhelmingly positive response from our customers; and, after receiving so many requests for bath and body products, the time was finally right to introduce this new line of essential oil-infused body care products. We see this as an opportunity to show people that the products they use every day can feel and smell luxurious, without harsh synthetic ingredients. It's important to remember that anything you put on your skin can seep into your bloodstream. We want to help our customers move towards a more natural lifestyle."
The new line boasts natural and organic hair and body care products that are infused with the brand's oh-so-popular essential oils. And there's something for everyone.
First to release will be EOL Beauty's Moroccan Organ Oil Shampoo and matching Conditioner. "Argan oil has this incredible ability to quickly restore softness, strength and shine to hair…" says Jeffries. The oil is rich in vitamins A, C and E, as well as being loaded with antioxidants, linoleic acid and omega-6 fatty acids. When applied topically to the hair, it can help to drastically boost cell production.
Second to release will be EOL Beauty's Tea Tree Oil Body Wash, an antifungal body and foot cleanser free of harsh chemicals and safe for daily use. Due to its antifungal, antimicrobial and antibacterial properties, tea tree essential oil is a wonderful base for a body wash as it can help to treat common skin conditions like athlete's foot, acne, cuts, ringworm, skin bumps, bug bites and fungal infections. From Jeffries, "We created this body wash with all our customers in mind, but it would be especially beneficial for people who live active lifestyles and want an effective, easy-to-use and aromatic cleanser to add to their shower routine."
Also included in this new collection is the EOL Beauty Aloe Vera Gel, geared towards providing instant relief to irritated, sun-damaged or newly shaven skin. "This is a great all-around product that everyone can benefit from having in their body-care routine." says Jeffries. Aloe vera contains numerous antioxidant compounds, and is proven to help accelerate the healing process in damaged skin. The EOL Beauty Aloe Vera Gel can be applied alone or before your daily body moisturizer to help maintain healthy, happy and glowing skin.
Lastly, the standout products from EOL's new beauty collection are their oil-infused body lotions. EOL Beauty will offer five essential oil lotions, all infused with the brands all-natural essential oils. "The goal with these oil-infused lotions is to offer intense moisture and hydration to the skin along with a true aromatherapy experience. You can choose from lavender, lemon, tea tree, peppermint or jojoba to help soothe, restore, uplift or refresh the mind AND body," says Jeffries.
All EOL Beauty products are backed by research, and they do offer a 100% satisfaction guarantee on every order.
Essential oil enthusiasts and those interested in all-natural personal care products are invited to "Like" Essential Oil Labs on Facebook to join their community, and to have access to new product releases and promotions. Says Jeffries, "…our aim is to make our Facebook page a forum where our customers can ask questions, help to educate each other and form a community. We're all about getting to know our customers on a personal level, and we love hearing about their wellness journeys."
Amazon shoppers looking for the new EOL Beauty line can purchase it directly through Amazon.com starting mid-March 2018. All orders will be backed by EOL's 100% satisfaction guarantee.
Contact Info:
Name: Quinton Jeffries
Email: Send Email
Organization: Essential Oil Labs
Address: 8605 Santa Monica Blvd #64784 Los Angeles, CA 90069-4109
Phone: 888-380-8495
Website: https://www.essentialoillabs.com/
Video URL: https://www.youtube.com/watch?v=E3lmwASR6SM
Source URL: https://marketersmedia.com/essential-oil-labs-announces-new-all-natural-beauty-line-eol-beauty/313594
Source: MarketersMedia
Release ID: 313594