Having Construction Apps can help you track your project and automate manual processes. You can then aim for successful completion of the project at lower costs.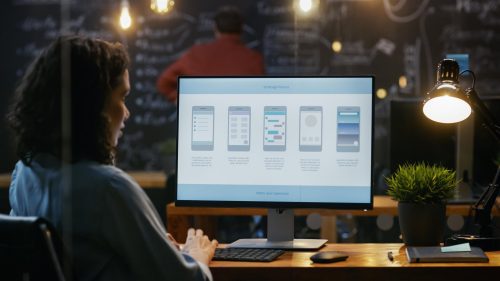 Pune, India - February 20, 2019 /MarketersMedia/ — Did you know that Construction Apps could help your team increase efficiency and productivity?
Many businesses invest in all-around management software to enhance the functioning and work structure of their teams. Construction businesses especially require advanced team management to complete projects. Here, various contractors, architects, subcontractors, engineers, and all the other stakeholders have to be on the same page so that the project execution goes well.
Want to see first? Get a Free Personalized Demo @ http://www.themobileappmaker.com/real-estate-request-a-demo/ .
There are so many things in a construction project that can be streamlined easily with a contractor app. From real-time analysis to less use of paper, all the things contribute to productivity. It enables the team to coordinate with each other for the successful execution of the project. Further, construction apps can ensure safe working with inbuilt safety manuals and guides.
In this article, we will discuss the features of the best construction apps. These functionalities can help you increase efficiency and reduce manual work.
Powerful Features of the Best Construction Apps 2018
The different features of the best construction apps that are the most instrumental in increasing the productivity and efficiency of your business have been mentioned below.
Complete Project Overview
On an average, 51% smartphone users open mobile apps one to ten times in a day and 25% users utilize mobile apps eleven to twenty times in a day. With mobile apps for almost everything including schedule, expense, and business management, it is feasible for users to download an app rather than manually complete tasks.
Creating Values at Your Convenience >> http://www.themobileappmaker.com/industries/real-estate-application/ .
The construction estimating apps allow construction builders to analyze and check the progress of the full project with just a tap. Including features such as punch time, request-for-information panel, data planning, real-time analysis, and project guidelines can increase throughput. Stakeholders will be able to gain information and share data instantly at any time.
Other functionalities like document management, email integration, and attractive dashboards can also be integrated into the app.
Cloud-based Integration to Streamline Tasks
The invention of the cloud has opened new doors of opportunities for construction businesses. Being able to acquire real-time data at almost every level of your project and storing data without having to worry about the infrastructure expense is certainly a blessing.
Construction managers can check their project status in real-time from anywhere. Whether you are on a business trip or want updates at midnight, it is all possible with the cloud. You just have to open your app to access contracts, stakeholder requests, material requirements, and evaluate updated floor plans. Additionally, with the automation of most of the tasks, human errors and costs are reduced.
Interested? Please share your idea at http://www.themobileappmaker.com/industries/construction-mobile-app/ .
Quick and Secure Infrastructure
One of the most important features in construction apps is to make it simple-to-use and fast-to-access. If your application lags, your team would prefer not having their time wasted. If a member of your team wants to track a purchase activity, he/she should be able to do it without having to fish around too much.
For security, proper access control should be implemented from the initial development. For instance, not everybody is allowed to review purchase activity and not every employee will be involved in cost control analysis. Hence, determining who has access to which features are essential.
Start Developing Your Construction Management App
The purpose of construction app is to enable smooth working and real-time collaboration. Your app should have features like project update, submittals, daily logs, floor plans and maps, meeting schedules, guidelines, directory, multi-language support, and purchase order details. This will lead to the timely completion of your construction project and facilitate a great relationship among all the stakeholders.
About The Mobile App Maker.: Contact http://www.themobileappmaker.com/contact-us/ for the mobile app development experience. mobile app development platform simplifies the app development process to deliver exciting and intelligent solutions that empower businesses to make a smart decision based on actionable insights, from anywhere-anytime.
Contact Info:
Name: Peter Tello
Email: Send Email
Organization: The Mobile App Maker
Address: The Mobile App Maker, Prabhavee Tech Park, 3rd Floor, Baner - Mahalunge Road, Balewadi Phata, Baner, Pune, Maharashtra, India 411045
Website: http://www.themobileappmaker.com
Source URL: https://marketersmedia.com/efficient-construction-mobile-apps-solutions-for-real-estate-industry/482557
Source: MarketersMedia
Release ID: 482557