The global e-commerce is booming, and the competition is fierce. Major e-commerce players are fighting for market share.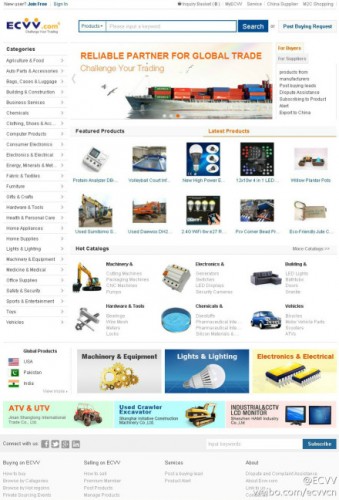 June 3, 2014 /MarketersMedia/ — When people embraced free trade, they blamed others from stealing their jobs. Calculations in US dollars, though, show that because of the currency exchange rate, imports and exports both grew in April while warning that risks such as the slowdown in developing economies and increasing geopolitical tensions, including in Ukraine, threaten to undermine its recovery.
As the main competitor of Alibaba, ECVV has always plays the role of a chaser, but actually they are neck and neck in the global wholesale market, especially for cheap and high-cost performance Chinese commodities. The company has provided all the relevant market information to its customers, which are reliable and verified. There are more than 2 million manufacturers, traders, exporters and distributors across the globe and through ECVV any prospective traders can meet their business partner online. The company's market penetration is helpful in connecting buyers and sellers easily and the business realization processes are hassle free.
In a recent business meeting Mr. Steven Chen, the CEO of the company said, "ECVV have more than 2.5 million registered users from 220 countries." He further informed that, "ECVV is generating an annual turnover of US$ 500 Million and is recommended an e-commerce platform for international trade by Shenzhen Government, American International Business Council and other organizations." This is a clear indication of the company's powerful representation and gaining population.
What makes it different from other B2B companies
The services include posting buying leads, product alert subscription, information on global database of suppliers and purchasers, organizing one-to-one meetings for buyers and sellers.
ECVV Global Sourcing Online has introduced a unique Credit Pass Member Service as a special offer to their VIP members. The pass is categorized to Gold, Platinum and Diamond and is envisaged with various security features to add up the reliability. In addition to the above, there is the verified supplier list and the hot China suppler list. The services include listing of approved trade leads, private show rooms, priority listing, logo display, IP address location display, information on global data base of buyers, and organizing one-to-one meetings of buyers and sellers. Further, there is a Dispute and Complaint assistance section managed by professionally qualified staff to take care of all trade related issues. The company has streamlined its activities to make sure that their customers are served with stellar services. This makes the company different from other B2B companies!
About ECVV:
ECVV is a B2B website founded in 2003 aimed to facilitate global online trading more efficiently. Ever since the establishment of the company, their dynamic leadership has created positive results in the B2B marketing segment. The growths of the company over the years have been really enviable.
The aim of the company is to provide a solid search base for supporting Chinese manufactures and traders to sell or find out partners for their product globally. ECVV directly contributing to Shenzhen Council for Promotion of International Trade to enhance "Shenzhen International Buying Network" in a most efficient way through their online services. Shenzhen is the major export hub for Chinese products, mainly finished products. ECVV's easy proximity of services helps these companies to process their business orders in a most effective way.
ECVV has a product data base of more than 50,000 varieties consisting of different segments ranging from electronics to heavy industrial products. Well-displayed catalogues, arranged and displayed under different categories helps the customers to search and locate their products easily. Priority selection processes help narrow down the products with a single click of the mouse. The payment gateways are well secured. The professionally trained customer care department creates a distinctive impression compared to other competitors. 24-hour customer service and tracking systems are designed to satisfy the requirements of their customers.
More details of company activities and for information on buying on ECVV, services details and product catalogues are available on ECVV's website. All the services are available between 8:30 am to 06:00 pm (Beijing Time), from Monday to Friday, excluding official holidays.
Contact Info:
Name: Alice He
Organization: ECVV Technology Development Ltd.
Source URL: https://marketersmedia.com/ecvv-run-capital-to-challenge-the-giant-alibabas-cake/44773
For more information, please visit http://www.ecvv.com/
Source: MarketersMedia
Release ID: 44773