Above-Average Cold Spells Roll Over Large Swaths of the US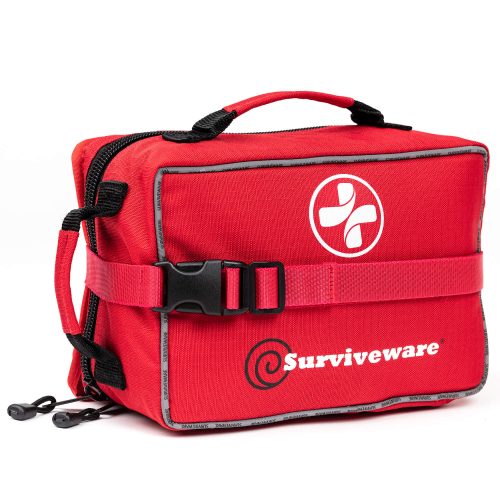 Woodbridge, United States - November 14, 2019 /MarketersMedia/ — A blast of record-breaking cold air forecast to be record-breaking will bring an early winter to millions of people in the central, eastern, and southern U.S. over the next few days.
A stronger Arctic cold is expected to send chills early in the week. According to weather forecasters, most of the eastern two-thirds of the nation will experience temperatures 10 to 20 degrees below normal. Citizens in certain regions should also expect a Polar Vortex and possible snow.
Residents are therefore advised to prepare early for the winter and stock up on supplies and other provisions for the upcoming season. Households with elderly members should make ample preparations since they are at risk of suffering from flu, hypothermia, frostbite, and other wintry ailments. To ensure all-out winter preparedness, it's important to have a first aid kit ready in one's home and car.
Surviveware's Large First Aid Kit is the ideal partner during severe arctic conditions. The casing of this kit is made from 600D polyester fabric that can resist frost and moisture. This feature is perfect, especially during winter, when most days are frosty in much of the U.S. The case keeps the items safe from dirt and prolongs the freshness of the provisions. Moreover, the pack has resealable laminate pouches that add an extra layer of protection to the kit's content.
This kit, which is available on Amazon Prime, holds provisions to remedy the most common injuries. Two hundred medical supplies, such as gauze swabs, adhesives, steri-strips, adhesive and non-adhesive bandages, cleansing wipes, and a triangular bandage, are included in this expanded first aid kit. These items are perfect for scrapes and cuts sustained from falling on icy driveways or slippery roads.
Apart from these wound essentials, the Surviveware Large First Aid Kit also contains provisions for treating splinters, concussion, shock, hyperthermia, sprained and broken limbs, and insect bites. Additional tools such as medical-grade shears, hydrogel, an emergency blanket, a CPR kit, and a whistle are also included in this 10" x 7.25" x 5" bag. Importantly, the pack also contains an advanced first aid handbook.
A favored feature of this first aid kit is its labeled compartments. The piping of each slot is labeled with the content's name, use, and quantity. This is a useful feature for those who are in a rush or panic when looking for supplies or for first responders who are not familiar with the contents of the kit.
The value of having a first aid kit can't be overstated during winter and while driving outdoors. In the following review written by Jonathan, an Amazon customer, and EMT, he shared his feelings on the kit:
"This is a quality first aid kit!!! I am EMT-B certified, and this is by far the best commercial First Aid kit I have seen in the market. You get a lot for your money, and Survivewear donates part of the proceeds for prosthetics for veterans and kids who need prosthetics. The kit is made of very durable, rugged fabric that will last a long time. The inside is a combination of tough, thick plastic to house all the items along with a polyester and some tough zippering.
The kit also comes with a little first aid book that has very helpful first aid information. This is the go-to kit that you should have in your car or in your camping gear. It is packed with first aid essentials, is rather lightweight, and it is easy to store as well. Would definitely recommend for anyone who loves the outdoors or would just like to have a first aid kit around that is well stocked."
Stay safe and secure during the blizzards and snowstorms of winter by stocking up on Surviveware's Large First Aid Kit. Start your winter preparedness measures now by clicking here.
Contact Info:
Name: Amanda Condry
Email: Send Email
Organization: Surviveware
Phone: 703-910-5188
Website: https://surviveware.com
Video URL: https://youtu.be/cSc6D3Pwyas
Source URL: https://marketersmedia.com/early-winter-predicted-as-severe-blasts-of-artic-cold-prevail-across-the-us/88933703
Source: MarketersMedia
Release ID: 88933703