Dr. Gary Richter's book, The Ultimate Pet Health Guide, became a #1 Best-Seller on Amazon and offers advice to cat and dog owners on the best modern and traditional veterinary treatments.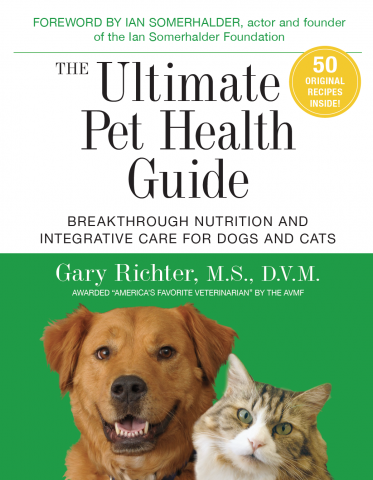 Oakland, United States - April 17, 2018 /PressCable/ —
Oakland, CA – Veterinarian and scientist, Dr. Gary Richter's new book, The Ultimate Pet Health Guide, became a #1 best-seller on Amazon and an international best seller in Germany, Canada, Australia and the US. The Ultimate Pet Health Guide allows pet owners to discover powerful treatment options for their pets and provides knowledge on the best traditional and modern veterinary techniques available today.
For more information about Dr. Richter's book and to obtain bonus materials please visit: https://petvetexpert.com/bonuses
Dr. Gary Richter. M.S, D.V.M, C.V.C, C.V.A., has been the medical director and owner of Montclair Veterinary Hospital in Oakland, California since 2002; he also launched Holistic Veterinary Care in 2009.
Dr. Richter received a B.S in animal science, an M.S. in veterinary medical science and a doctorate of veterinary medicine with honors from the University of Florida. As a certified veterinary acupuncturist and as a veterinary chiropractor, Dr. Richter uses these treatment options alongside his traditional veterinary education to help his patients combat various illnesses and diseases.
Because of his work and dedication to animal health, Dr. Richter has received more than 30 awards at a local and a national level. These awards include Best Veterinary Hospital, Best Veterinarian, Best Canine Therapy Facility and Best Alternative Medicine Provider. In 2015, Dr. Richter was also voted as America's Favorite Veterinarian by the American Veterinary Medical Foundation (AVMF).
Dr. Richter has released his new Amazon best-selling book, The Ultimate Pet Health Guide, in order for pet owners to care for their cats and dogs using holistic and conventional approaches. Most recently, Dr. Richter was on the Pet Show with Dr. Katy discussing his new book.
In his book, Dr. Richter explains various treatments and explains to the reader why a specific treatment is important for which illnesses. He offers specific recommendations for an integrative approach to common pet diseases such as allergies, skin condition, diabetes heart disease and cancer. All of Dr. Richter's recommended treatments are backed by extensive research and are from years of success using them at his own clinical practice.
Ian Somerhalder, actor and founder of the Ian Somerhalder Foundation, has written the forward for the Ultimate Pet Health Guide book. The Ian Somerhalder Foundation seeks to help, educate and collaborate with people to benefit the planet, including its animals.
Those wishing to find out more about Dr. Richter can visit the website on the link provided earlier in this article. The Ultimate Pet Health Guide is available on Amazon: https://amazon.com/Ultimate-Pet-Health-Guide-Breakthrough/dp/1401953506.
Contact Info:
Name: Lee
Email: Send Email
Organization: Richter Communications & Design Group
Address: 4390 Piedmont Ave, Oakland, California 94611, United States
Website: http://www.goasklee.com
Source: PressCable
Release ID: 332031