The Einsteinium Foundation is the first non-profit dedicated to scientific research to be registered in the digital currency space. This month the Foundation pledged $1500 USD to diabetes research.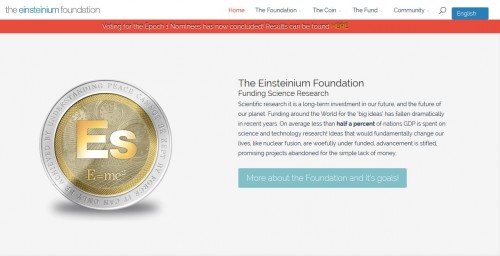 Canada - - April 30, 2014 /MarketersMedia/ — Devoted to fast-track the future with the modern means of digital currency, the Einsteinium Foundation continues to fund vital scientific research worldwide with the digital coin EMC2. Only two months in and they have made their second monthly donation: $1500 USD to diabetes research. The organization behind the EMC2 digital currency, the Einsteinium Foundation, has also legally registered in Canada as the first non-profit in the digital currency space dedicated to scientific research worldwide. EMC2, similar to Bitcoin, Litecoin and Doegecoin, is an increasingly popular scrypt based digital currency that implements proof-of-work algorithm.
the Einsteinium Foundation became an official Non-Profit Organization on April 7th, registered in Montreal with NPO corporation number: 882658-4: https://www.ic.gc.ca/app/scr/cc/CorporationsCanada/fdrlCrpSrch.html?locale=en_CA. Through being the first non-profit dedicated to scientific research to be registered in the world of digital currency, the Einsteinium Foundation hopes to secure grants and build long lasting relationships with other NPOs worldwide – in order to support future ground breaking science projects of all kinds.
April's financial contribution of just over 500K EMC2, or $1500 USD, represents a 50% increase from last month's donations; in line with the increasing popularity of the foundation's digital currency EMC2.
The funds were pledged to NPO Mend Therapeutics for their vital research in inexpensive diabetes medicine. The research can potentially aid millions of people suffering from diabetes and related complication globally. According to the World Health Organization diabetes is predicted to become the seventh leading cause of death in the world by the year 2030. Diabetes is a leading cause of blindness, amputation, kidney failure and cardiovascular disease. 80% of diabetes deaths occur in low to middle income countries – hence affordable and accessible medication is crucial for survival.
"Mend Therapeutics is creating affordable drugs for the World's 371 Mill diabetics who don't have health insurance. Diabetic complications are catastrophic and include non-healing wounds leading to amputation. We want to develop a protein for diabetic wounds that can be manufactured at low cost, an important step in creating an affordable drug. If all patients, irrespective of economic status, can afford medications, they have a brighter future." -Mend Therapeutics.
To find out more about Mend Therapeutics visit https://experiment.com/projects/building-an-affordable-drug-for-diabetic-wounds
Last month's recipient Walter Moss received $1000 USD for his work researching if viral molecular structures can cause cancer. To help Walter Moss reach his funding goal, the Foundation also raised an additional 300 000 EMC2 (approximately $600 USD):
"Winning the Einsteinium Foundation award was hugely helpful to this effort: a game-changer really." Dr Walter Moss expressed in an AMA on Reddit.
Scientific research and education programs are nominated worldwide by EMC2 users. All nominations are carefully screened by the Einsteinium Foundation science board to make sure they uphold strict scientific and ethical guidelines. The EMC2 community then votes online each month at einsteinium.org; EMC2 automatically donates 2% of every block mined to the Einsteinium Foundation Fund.
With the second donation of over 500 000 EMC2 ($1500 USD) to support Mend Therapeutics' diabetes research, EMC2 continues to dedicate essential funding to science each and every month. The registration of the Einsteinium Non Profit Organization in Canada also demonstrates that EMC2 takes its mission seriously and is a great leap forward for both EMC2 and digital currency more generally: to fund the future with the future of currency.
To trade EMC2 and Bitcoin: https://www.cryptsy.com/markets/view/188
Einsteinium on Twitter: @emc2foundation
Contact Info:
Name: Ryan Wright – Marketing and Communications Officer
Email: Send Email
Organization: The Einsteinium Foundation
Website: http://Einsteinium.org
Source URL: https://marketersmedia.com/digital-currency-non-profit-organization-dedicated-to-science-founded-by-einsteinium-emc2/42471
Source: MarketersMedia
Release ID: 42471