Make your travel business flourish by building powerful travel app that allow your customers to search and book flights, hotels, cars with a full-stacked app.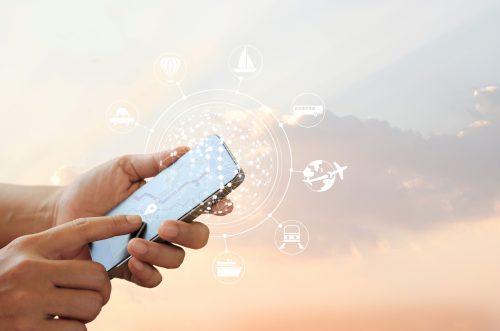 Pune, india - November 9, 2018 /MarketersMedia/ — The process of travel app development is the latest example of advanced technology solutions being adopted by travel businesses. These mobile applications have completely revolutionized the travel sector and are making the concepts of agents completely redundant. With some excellent features and benefits, travel app allow tour companies to offer excellent facilities and other attractive discounts to the users along with wooing prospective customers.
Advancements in latest mobile technology and a huge surge in the number of mobile app users in recent times has made it essential for businesses to be active on mobile and other social media platforms. The travel and tourism industry, one of the largest and rapidly growing industries, is no exception.
The exponential growth of the travel and tourism industry in the last couple of years is sufficient to indicate its immense potential. Adding to this, mobile technology has further played a huge role in transforming the entire tourism landscape.
Scheduel a FREE Demo Today at http://www.themobileappmaker.com/industries/travel-hospitality-mobile-app/
Consider these statistics:
Approximately 85% of the travelers use smartphones to plan their travel.
The 7th most downloaded category of apps among mobile users is travel & tourism.
Approximately 30% of the travelers use mobile travel app to find the best deals for hotel and flight.
Replacing lengthy guidebooks and confusing maps, both personal and business travel apps have the potential to completely transform the travel experience of the customers around the world.
Travel App Features
If you're a travel company looking to leverage technology for your business, here are some of the essential
features to look for in a travel app:
GPS Tracking
When it comes to a travel app, the importance of GPS location-based services cannot be stressed on enough. In the quest of exploring the unknown, tourists around the world look for quickly find a hotel to check in, a cozy cafe or a nearby attraction to visit. Travel apps with geo-enabled location services that allow the tourists to track the location with quick results are the first preference of customers using such apps.
Travel Planning Feature
Yet another essential feature that every travel app must have, the app should allow the traveler to easily search the destination, schedule an onward trip, provide important travel tips and guidance along with offering a place to store all the e-tickets and other travel related documents
Currency Conversion Feature
When your customers are on a trip to a different country, currency exchange is one of their main requirements. Instead of looking elsewhere to know exchange rates, your travel app should have the feature of tracking currency rates to let travelers have a smooth experience in a foreign country.
Weather Forecast Feature
Whether you're on a business trip or a holiday, it is always nice to know about the weather conditions of the place you wish to visit. The weather forecast is an excellent feature to have in any mobile travel app as it adds to the customers' convenience manifold.
Information About the Local Area
To provide the best travel app experience to customers, the travel app must have all the information about local areas along with the city transport guides to help tourists get around the new place easily.
Travel App Benefits
If you're still wondering about the benefits of travel app development for your business, here are three amazing ones that will help you make an informed decision.
Active Collaboration
Business travel apps can be instrumental in allowing you to collaborate with various other service providers for better business prospects.
Convenience of Bookings
One of the best benefits of using travel apps for businesses is the having the option to book all services in a single place. As the travel partner of your customer, you can make all the arrangements including destination selection, hotel reservation, booking tickets for local attractions at a single place using a good travel app.
An Exclusive Platform
Unlike the regular mobile websites, travel app offer a dedicated platform to the users. Since the app runs on its own without the need of any browser, it provides a unique experience to your users.
For more Info Contact us : http://www.themobileappmaker.com/contact-us/
Travel App Development Costs
The next step after understanding the importance of travel app development is wondering about the costing aspect of your business. Here is everything you need to know about costs.
Typically, the cost of developing a travel app depends on a number of assorted factors as listed below.
Creates apps for Android, iOS and/or the Web
Features you would like to add in your travel app
Cost of outsourcing the job of app development to an external entity if you are not developing it yourself or the manpower cost for the number of people working on app development is high
Additional costs such as paid themes added features, etc.
The Way Ahead
With huge benefits, for mobile travel app that have become one of the most important aspects of the travel industry. If you're looking to strategize your business based on customer preferences, having a business travel app can be a real game changer.
Contact Info:
Name: Peter Tello
Email: Send Email
Organization: The Mobile App Maker
Address: The Mobile App Maker, Prabhavee Tech Park, 3rd Floor, Baner - Mahalunge Road, Balewadi Phata, Baner, Pune, Maharashtra, India 411045
Website: http://www.themobileappmaker.com/industries/travel-hospitality-mobile-app/
Source URL: https://marketersmedia.com/developing-travel-app-to-earn-more-profits/440725
Source: MarketersMedia
Release ID: 440725