Residents Urged to Strengthen their Hurricane Preparation Efforts and Awareness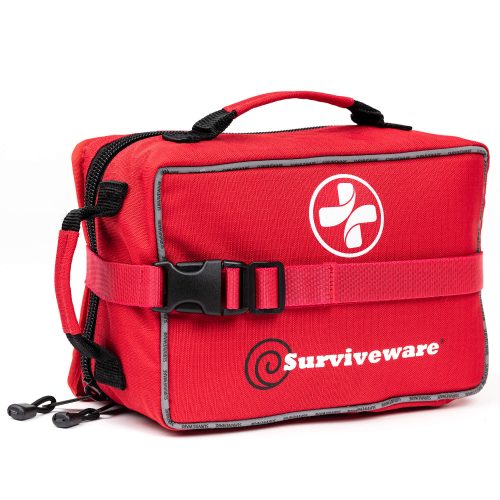 Woodbridge, United States - November 22, 2019 /MarketersMedia/ — More damaging hurricanes are expected to strike the United States, a new research study shows.
Climate scientists at the University of Copenhagen predicted that with the continuous warming of the ocean and atmosphere, more destructive storms and weather conditions are to be expected. According to their research, 10 percent of the hurricanes that caused more than 467 square miles of damage is happening 3.3 times more frequently.
National Oceanic and Atmospheric Administration (NOAA) hurricane scientist Jim Kossin said, "Their result is consistent with expected changes in the proportion of the strongest hurricanes and is also consistent with the increased frequency of very slow-moving storms that make landfall in the U.S." Thus, residents are advised to strengthen their preparations and upgrade their home security by including a first aid kit, which is readily available in their homes and cars.
Surviveware's Large First Aid Kit is sturdy and water-resistant. The kit's body is made of durable 600D polyester fiber that makes it durable against wear and tear and harsh weather. It has a MOLLE-compatible strap system that enables it to be attached to any suitable surfaces. This large first aid kit is also ergonomically designed to be easily carried, which is necessary for short-notice evacuation efforts. Its sturdy handle on top helps in its easy retrieval.
This expanded first aid kit, which can be purchased on Amazon Prime, is packed with supplies to meet the needs of those who are transferring to temporary shelters and facilities. It contains 200 medical supplies that can be used to aid with minor to major injuries that family members may sustain while withstanding a hurricane or other natural disaster.
The kit contains adhesive bandages of varying designs and sized, non-adhesive dressings, wound closure strips, skin cleaning and alcohol wipes, eye pads, hypoallergenic tape, and gauze pads. It also comes with first aid tools such as tweezers, splinter probes, safety pins, an emergency blanket, whistle, and cold packs. Surviveware's Large First Aid Kit also comes with a CPR kit, fever strips, hydrogel, and sting relief wipes. The bag has resealable containers so users can add a prescription medication, creams, and other small items.
A favorite and unique feature of this first aid kit is its organized and labeled compartments. Each compartment is labeled according to its content and purpose, making it easy to retrieve supplies in emergencies. Moreover, the labels are useful in identifying medical items that need replenishment.
Apart from first aid supplies, Surviveware's Large First Aid Kit comes with an advanced first aid handbook. This handbook helps users to make sounds decisions during critical situations and contains instructions on how to perform basic first aid.
There is no better way to ensure one's safety than by having a reliable first aid kit at home. In a review written by Cheryl, a Surviveware Amazon customer, she shared how the package keeps her family safe:
"Order 1 for the house, it's a great investment, lightweight, and has everything you need for an emergency. Getting ready to order two more to go into each car for (an) emergency."
Purchase a Surviveware Large First Aid Kit now by clicking here.
Contact Info:
Name: Amanda Condry
Email: Send Email
Organization: Surviveware
Phone: 703-910-5188
Website: https://surviveware.com
Video URL: https://youtu.be/cSc6D3Pwyas
Source URL: https://marketersmedia.com/destructive-hurricanes-forecast-to-hit-the-us-coastlines-more-frequently/88935280
Source: MarketersMedia
Release ID: 88935280