Davinci Music Center releases information on how its new, fun Piano Playtime preschool piano lessons service will change the Music Education space. Visit https://www.davinciarts.org for more.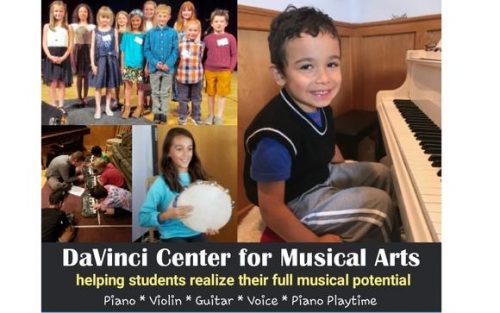 Broomfield, United States - August 2, 2019 /PressCable/ —
Earlier today, Denver-based Davinci Music Center for Musical Arts announced the launch of its new "Piano Playtime", a fun-filled preschool music education service, set to go live August 13, 2019. For anyone with even a passing interest in the world of music lessons, this new development will be worth paying attention to, as it's set to shake things up.
Currently, with even a passing glance, a person will notice every other music center focuses mainly on general music for the preschooler and even on reading music, which can actually be counter-productive to a preschooler's overall learning. The owner and director at Davinci Music Center for Musical Arts, Maria Hart, makes a point of saying "things are going to change when our Piano Playtime preschool music education service launches because the Piano Playtime curriculum has been meticulously designed to meet preschoolers' exact developmental needs. At no other time in life, are piano lessons so vital for accelerated brain development".
Visit https://www.davinciarts.org/gymboree-piano-playtime/ to register now.
Maria continues… "Where you'll always see our competitors overly focused on just rhythm or body movements or simply just reading music, we give every preschooler in the Greater Denver area access to piano lessons for accelerated brain development and increased neural integration based on massive research in piano education using multiple neural inputs, age appropriate activities for brain integration, all wrapped up in plain ole fun. We do this because we at DaVinci Center For Musical Arts and Piano Playtime are extremely inspired to give specialized attention to each individual child's age and unique learning styles, using time-tested, research-based educational models for this state-of-the-art Piano Playtime curriculum for preschoolers. Ultimately this is going to be a huge benefit to our families, and communities at large because your children will have increased intelligence and advanced neural functioning while having fun learning a musical instrument. These benefits last a lifetime and beyond."
Davinci Music Center for Musical Arts was established in 2003. It has been doing business for over 16 years and it has always aimed at giving every preschooler on the planet access to this groundbreaking model of accelerated brain development through ongoing piano activities and using preschool piano lessons as a proven method. Studies are massive and staggering in their conclusions that preschool piano lessons as featured in Piano Playtime even beats computer, foreign language, and violin classes in helping preschoolers function at higher levels and use more of their brain not only during class times, but transferring to all other areas of neural functioning.
Currently, the closest thing to Piano Playtime by Davinci Music Center, are the numerous preschool music programs which focus on general music or purely reading music, but Piano Playtime improves on this with decades of hands-on research to develop the most effective teaching techniques available. This alone is predicted to make Piano Playtime, by Davinci Center for Music more sought out than any other music program in the Denver and Colorado communities.
Once again, the Piano Playtime preschool music education service is set to launch August 13, 2019.
As space is limited, to find out more , the place to visit is http://www.davinciarts.org
Contact Info:
Name: Maria Hart
Email: Send Email
Organization: DaVinci Center For Musical Arts
Address: 555 Alter St Ste A, Broomfield, CO 80020 , United States
Phone: +1-720-466-5119
Website: https://www.davinciarts.org/
Source: PressCable
Release ID: 88903609