Mountain View CA Dentist Dr. Patrick F. McEvoy Introduces Solea CO2 Dental Laser System Enabling Rapid, Drill-Free, Cavity Removal and Laser Dentistry Treatment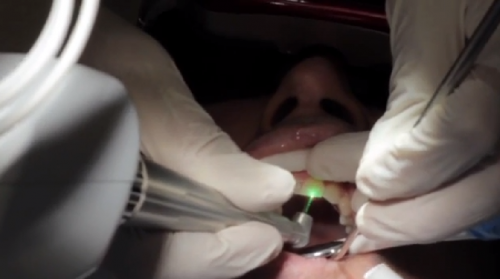 August 11, 2014 /MarketersMedia/ —
Mountain View, California, United States of America – August 11th, 2014 /PressCable/ —
Dr. Patrick F. McEvoy, a leading dentist in Mountain View CA renowned for his portfolio of advanced dental treatments, has introduced the Solea CO2 dental laser system: a fast, precise, virtually noiseless and anesthesia-free system that does away with the discomfort and anxiety associated with dental treatment.
"The Solea system completely changes the whole experience," said Dr. McEvoy. "Cavity removal, fillings and other treatments are amazingly comfortable with the Solea laser – it is light years ahead of traditional methods and I believe it sets a new standard for painless dentistry. Even the most nervous patients can forget their fear and focus on a great outcome. Solea change what it means to go to the dentist."
According to the Dental Fears Research Clinic at the University of Washington Seattle, up to 20% of Americans fear the dentist enough to avoid receiving dental care until absolutely necessary. The sound of the drill alone is enough to cause "dental dread" in patients.
Solea is the first a CO2 laser system ever cleared by the FDA for hard and soft tissue ablation, the only CO2 hard tissue laser available, and the fastest hard tissue laser in the dental industry. The Solea laser is a computer-aided system that provides dentists like Dr. McEvoy with new levels of speed and precision, and allows them to virtually eliminate the drill from dental procedures.
Constantly in search of ways to enrich his patients' experience, Dr. McEvoy is known for his commitment to continual education and early adoption of the state-of-the-art technologies to improve the way he and his team care for their patients. Dr. McEvoy recently introduced the CEREC Omnicam, an advanced scanning tool that enables him to treat and restore patients' teeth with just one visit, without needing to take impressions.
Dr. McEvoy is a certified specialist in advanced CEREC procedures, general dentistry and implant dentistry. His clinic also features computerized, pain-free anesthesia, digital and 3D x-rays, and 3D virtual reality glasses for patients to watch movies during longer procedures.
More at http://www.drmcevoy.com/dr-mcevoy/ and http://youtu.be/tur4mimnL_8
About Patrick F. McEvoy, DDSA practicing dentist in Mountain View CA, Dr. Patrick F. McEvoy and his team of dental professionals are committed to restore and improve the beauty of smiles using up-to-date dental procedures, using customized treatments that best fit each patient's needs and requirements. Available procedures include veneers, dentures, bridges, crowns, inlays and dental implants. Dr. McEvoy's goal is to provide gentle artistry, caring, and understanding of what patients really want.
Mountain View CA Dentist Dr. Patrick F. McEvoy is a Fellow of both the American Academy of Implant Dentistry and the Academy of General Dentistry. He is also a Diplomate of the American Board of Oral Implantology and Implant Dentistry, and has achieved the highest level of recognition in implant dentistry.
Contact Info:
Name: Mary Carroll
Organization: Patrick F. McEvoy, DDS
Website: http://www.drmcevoy.com/
Phone: (650) 969-2600
Address: 105 South Drive, Suite 200, Mountain View, CA 94040
Source: MarketersMedia
Release ID: 58901