Den tuyp LED HALEDCO tells about its collection of LED tube light.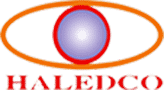 April 20, 2021 / / — The market for LED is booming. The reason behind the LED Lighting market thriving is because of this new technology turning popular and more widely known, alongside the encouragement of energy and carbon savings driven by judicial changes resulting from environmental pressures. People who want to replace the fluorescent tube lights with LED tube lights in-home or office to save maximum on the electricity bill can explore the vast collection of LED tube light by HALEDCO available with many capacities, designed to meet all needs.
LED tube lights are made in the form of a round tube to create a uniform light strip. LED tube lights illuminate thanks to the cutting-edge LED chip. SMD LED chips are arranged equitably along the lamp body to guarantee uniform light. Its lamp body is made of many various materials. For example, Lamp made from frosted glass (mica), Lamp made from clear glass (mica), a Glass lamp cover and Aluminum lamp housing. The lamp body has the effect of boosting the luminescent efficiency of the tube light. Simultaneously, it shields the internal components from surrounding impacts. LED tube lights utilizing Meanwell / Done power are installed in the light body to make the Lamp have a compact design. The LED source converts the AC into DC, offering a stable voltage for the operating lights. When it comes the advantage that every HALEDCO LED tube light brings with it includes saving 65% of electricity compared to traditional bulbs. The lifespan is more than 65,000 hours, repair costs, decreasing electricity costs, and lamp replacement costs: the company design ample sizes, procedures, and capacities for users to select. Buyer can choose from 1m2 LED tube light, 60cm LED tube light, and double LED tube light. The light is distributed evenly, naturally, so it will assist with protecting the user's eyesight. The LED tube does not use ballasts and a starter to ensure that flicker or burnout does not occur. Utilizing direct voltage 220V is convenient when choosing an installation location.
HALEDCO is committed to providing customers with the best high-end beautiful LED tube models on the market at the best price. Its best-selling lights include HLT1-25w LED tube light with translucent glass 1.2m, LED tube light HLTT-18w glass 1.2m, HLT2-10w LED tube light with glass 0.6m, LED tube light HLT3-10w glass 0.6m, HLT1-18EPS aluminium LED tube light and so on. These commonly utilized LED tube lights are available in several different lighting applications. LED tube lights give standard lighting for space while likewise decorating the room more modern.
For more information, click at https://haledco.com/den-led/den-tuyp-led
About the Company: HALEDCO LEDs is the leading unit in the LED lighting technology industry specializing in manufacturing and supplying energy-saving LED products for different lighting systems.
Contact details:
Facebook: https://www.facebook.com/congtydenledhaledco/
Instagram: https://www.instagram.com/denled.haledco/
Youtube: https://www.youtube.com/channel/UCRqlDJQVskLkGn25zD1u73w
About.me: https://about.me/haledco
Flickr: https://www.flickr.com/people/165699045@N07/
Contact Info:
Name: Den tuyp LED HALEDCO
Email: Send Email
Organization: HALEDCO TECHNOLOGY AND PROMOTION TRADING CO., LTD
Address: 3D2 Cau Dien Urban Area, Bac Tu Liem District, Ha Noi, Vietnam
Phone: 0947809266
Website: https://haledco.com/den-led/den-tuyp-led
Source:
Release ID: 89006094