An extensive study of the product application and services conducted by subject matter experts assessing the market will help product owners to make a wise decision.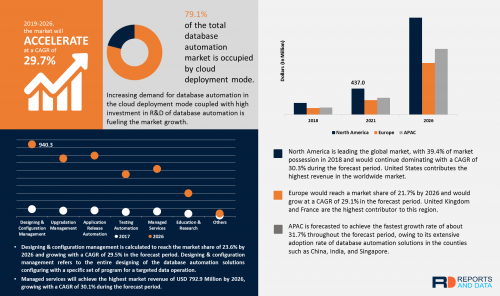 New York, United States - May 19, 2020 /MarketersMedia/ — The Global Database Automation Market is forecast to reach USD 3,984.4 Million by 2026, according to a new report by Reports and Data. Data automation is the process of updating the data on the open data portal in order to perform a specific set of tasks programmatically, rather than manually. Automation of the data processing has been very beneficial for long-term sustainability as the manual process often exhibits vital errors and also takes up quite a long time in contrast to the automated process for the large data sets. The global database automation market is growing significantly as the demand for database automation in the business process in BFSI, E-commerce and other industry verticals are flourishing predominantly.
APAC is forecasted to achieve the fastest growth of about 31.7% in the period 2019 – 2026, due to its massive demand for the database automation solutions across most of the end-use verticals coupled with the gigantic increment in the volume of data, especially in the BFSI and E-commerce sectors. India and China are some of the fastest-growing countries in this region, having substantial growth in the E-commerce sectors and digitization in the BFSI companies.
This report covers the recent COVID-19 incidence and its impact on Database Automation Market. The pandemic has widely affected the economic scenario. This study assesses the current landscape of the ever-evolving business sector and the present and future effects of COVID-19 on the market.
To avail your copy of the Sample Report, Click @ https://www.reportsanddata.com/sample-enquiry-form/2579
Key participants include Microsoft, IBM, Google, Intel Corporation, Nokia Corporation, SAS Institute, Amazon Web Services, Inc., Oracle Corporation, Cisco Systems, and Narrative Science.
For the purpose of this report, Reports and Data have segmented the global database automation market on the basis of the organization size, application, component, deployment mode, end-use verticals, and region:
Organization Size Outlook (Revenue: USD Million; 2016-2026)
• Large Enterprises
• SMEs
Application Size Outlook (Revenue: USD Million; 2016-2026)
• Deployment
• Backup
• Security & Compliance
Component Outlook (Revenue: USD Million; 2016-2026)
• Designing & Configuration Management
• Upgradation Management
• Application Release Automation
• Testing Automation
• Managed Services
• Education & Research
• Others
Deployment Mode Outlook (Revenue: USD Million; 2016-2026)
• Cloud
• On-Premise
End-Use Verticals Outlook (Revenue: USD Million; 2016-2026)
• BFSI
• Healthcare
• Retail & E-commerce
• BPO & KPO
• Transportation & Logistics
• IT & Telecom Service
• Education & Research
• Others
Get this report at a special discounted price, visit @ https://www.reportsanddata.com/discount-enquiry-form/2579
Regional Analysis:
• North America
• Europe
• Asia-Pacific
• Latin America
• Middle East and Africa
Further key findings from the report suggest
• Banking, financial services, and insurance (BFSI) sectors hold a market revenue of USD 127.4 Million in 2018. The CAGR is forecasted to be 30.4% throughout the forecast period. The major part of the business processes of the banking and finance sectors is carried out through digital methods. To keep up with errorless data processing in the digitized business landscape, BFSI sectors are upgrading to much more sophisticated and precise automated operations for the database processing.
• BPO & KPO sectors deal with a significant portion of the database in their back-office data processing services. Robotic process automation (RPA) has become one of the most considerable embodiment in the business process outsourcing (BPO) sectors.
• Automated data backup and data replication keep the entire data processing operation up-to-date without having to operate the data manually. Backup sub-segment is expected to achieve a market revenue of USD 1,163.4 Million by 2026, having grown with a CAGR of 29.3% during the period 2019 -- 2026.
• North America is leading the global market, with 39.4% of market possession in 2018 and would continue dominating with a CAGR of 30.3% during the forecast period. United States contributes the highest revenue in the worldwide market.
• Europe would reach a market share of 21.7% by 2026 and would grow at a CAGR of 29.1% in the forecast period. United Kingdom and France are the highest contributor to this region.
To read the full report now, with industry-wide coverage, visit@ https://www.reportsanddata.com/report-detail/database-automation-market
About Us:
Our in-house experts assist our clients with advice based on their proficiency in the market that helps them in creating a compendious database for the clients. Our team offers expert insights to clients to guide them through their business ventures. We put in rigorous efforts to keep our clientele satisfied and focus on fulfilling their demands to make sure that the end-product is what they desire. We excel in diverse fields of the market and with our services extending to competitive analysis, research and development analysis, and demand estimation among others, we can help you invest your funds in the most beneficial areas for research and development. You can rely on us to provide every significant detail you might need in your efforts to make your business flourish.
Contact Info:
Name: John Watson
Email: Send Email
Organization: Reports And Data
Address: 40 Wall St. 28th floor New York City, NY 10005 United States
Phone: +1-212-710-1370
Website: https://www.reportsanddata.com/
Source URL: https://marketersmedia.com/database-automation-market-to-reach-usd-39844-million-by-2026-with-cagr-297/88958196
Source: MarketersMedia
Release ID: 88958196