Danpal Light Architecture is introducing the new translucent shading system solution, designed to give an all-encompassing H.Q.E (high-quality environment). This new Aura Louvre System design replaces the need for a more costly mechanical system.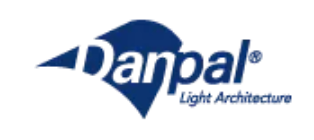 March 1, 2021 / / — The Aura panel benefits from a unique Z-Frame internal structure, utilizing a zigzag-like design that limits glare, and solar radiation, while still permitting sufficient natural light. DanpaShade Aura also transforms dull shade into welcoming illuminated shade. Because these louvres are bespoke, customers can determine the colour and opacity of the illuminated shade.
The Z-Frame design also utilizes Shade-Shift technology that filters daylight as the sun traces the sky, providing ambient light throughout the day, aiming to offer a comfortable, light-controlled interior and colorful exterior.
This new modern building shading solution comes with multiple fin-shaped panels, each of which can carry 2 separate alternating colours, which run the entire length of the panel. This creates a KINETIC colour-shift effect, creating the illusion of the 2 independent colours, being seen from adjacent angles. As the viewer moves their perspective outside the building, one colour blends to the other.
DanpaShade Aura systems can be installed either vertically or horizontally. Each Aura fin can be installed in 3 separate angles 90 deg, 45 deg & 22.5 deg, utilizing the standard aluminium bracket fittings provided as part of the complete solution. This allows for flexibility in both the architectural design of the project, but also to make sure that the louvre system is set-up in the most efficient manner possible.
The featherweight construction of the Aura system means it can be retrofitted on almost any building, without concern for unnecessary damage to the building façade. Avoiding such a costly error helps provide the customers' peace of mind and helps avoid costly maintenance issues.
Whether a customer needs to achieve the latest Green Building standards, governmental building efficiency regulations, or if you are on their way to a Net-Zero building – DanpaShade Aura is built to help reach those goals. Ensuring your building incorporates a passive cooling system, such as integrated external louvres, can play a major role in increasing your building's energy efficiency. By allowing for some natural daylight to penetrate through the system, the DanpaShade Aura solution also assists in an overall reduction in energy demands.
Customers can create illuminated shade for their building interior and enjoy a comfortable space, highlighted with controlled natural daylight, and punctuated by a glare-free experience. The team at Danpal refers to this unique property of 'illuminated shade', which they consider is key to enhancing the interior of any building and by doing so, create a higher quality experience for the building's occupants.
The DanpaShade Aura system is Danpal's next step in building shading solutions, a complete ready to install product that contains several unique to Danpal innovations. At the centre of these is the combination of the Danpalon KINETC effect, within the internal Z-Frame structure, allowing for colour-change as the viewing angle shifts.
The Danpal Aura Lourve system can help keep cool in summer and comfortable in winter, with a reduction on reliance on HVAC systems, and colour with shade. To learn more about the Danpal Louvre, visit their website at https://danpal.com/products/louvre/.
END
Notes for the Editor: Please send all press releases to Dayne Scrowther, who can be reached at Kibbutz Dan, Israel or by phone on +614655676. All email inquiries can be sent to Daynes@danpal.com.
Contact Info:
Name: Dayne Scrowther
Email: Send Email
Organization: Danpal
Phone: +614655676
Website: https://danpal.com/products/louvre/
Source:
Release ID: 88999303