Tattoo Removal in Dallas, Texas is so popular there seems to be a treatment facility on every corner, however, Shipers Laser Tattoo Removal sets themselves apart as second to none.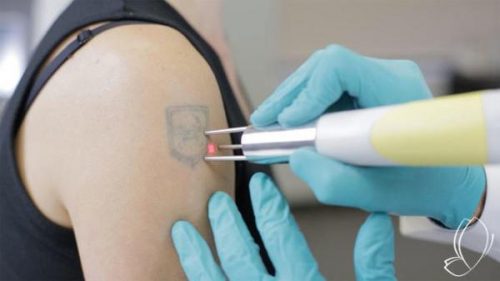 Allen, United States - April 13, 2019 /PressCable/ —
Dallas, Texas- Shipers Laser Tattoo Removal Center in Dallas Texas opened early last year has quickly become the Dallas areas most reputable and sought-after location for folks aiming to get their unwanted ink removed.
According to Shipers, the clinic's impeccable reputation and great success are due partly to the highly detailed and comprehensive advanced training he received Dallas, Texas- as well as his prestigious laser, the Quanta Evo Q-Plus C. The Italian made laser is the absolute best of its kind and most advanced model of the Q series.
Many factors have contributed to the laser procedure picking up steam such as the advancement in aesthetic/cosmetic laser technology, increased availability of training facilities and programs, and most importantly the affordability. Billy Shipers, owner of Shipers Laser Tattoo Removal in Dallas, Texas says both the quality of training as well as the quality of laser are huge contributing factors of a successful laser tattoo removal process.
Billy encourages anyone seeking out laser tattoo removal in Dallas to do their research. "Find out when and where the technicians of these clinics were actually trained and certified. Even if they are physicians or nurses, everyone performing laser tattoo removal needs to be thoroughly trained and certified." He goes on to explain not everyone who has tattoo removal certification had the same training.
"Not all laser training is created equal."
Shipers Laser Tattoo Removal Center in Dallas is the popular tattoo removal location for anyone wanting to rid themselves of unwanted ink, the business believes that anyone who qualifies should be able to get rid of their unwanted ink, and they make sure to give each of their clients a thorough consultation where the fully explain the laser tattoo removal process.
The business offers complimentary consultations, which Billy says is the first step in educating his clients on the laser tattoo removal process.
"During our consultation we need to find out if the potential client is a good candidate. We do this by providing our laser tattoo removal clients with paperwork in order to find out their medical history, skin typing, and tanning habits. After a thorough analysis of the paperwork we will examine the clients tattoo to find out approximately how many treatments the tattoo removal will take as well as the pricing."
Billy Shipers, owner of Shipers says their pricing just can't be beat. He had this to say about the company's price guarantee, "We truly stand by our policy of affordable cost of tattoo removal and we will absolutely beat or match any legitimate, verifiable, verbal, or written price quote from any equivalent, qualified competitor, we simply ask our clients to send in a contact submission form, including a picture for an immediate treatment session price."
The Dallas tattoo removal center promises to match competitor pricing, according to their website https://www.shipersltrc.com/tattoo-removal-cost-and-pricing, Shipers Laser Tattoo Removal Center prices their prospective clients on how much actual ink their tattoo holds, as well as the size of the tattoo, the color of the tattoo, type of ink used, as well as how deep into the skin the ink goes. According to Billy, "All these factors are what allow us to develop a custom treatment plan for each of our clients."
Shipers Laser Tattoo Removal Center is accepting new clients and offers free consultations for anyone wanting to learn more about the laser tattoo removal process, he encourages interested parties to contact him to set up an appointment as his schedule fills up very quickly.
Shipers Laser Tattoo Removal Center
(972) 768-9684
101 W. McDermott Dr.
Allen, TX 75013
Contact Info:
Name: Billy Shipers
Email: Send Email
Organization: Shipers Laser Tattoo Removal Center, LLC
Address: 101 W. McDermott Dr., Allen, TX 75013, United States
Phone: +1-972-316-9537
Website: https://www.shipersltrc.com/
Source: PressCable
Release ID: 502442