Kiteboarding holiday camps in Morocco have been launched by Tripaneer. The fun and energetic camps include a full accommodation and travel service, with 14 hours of instruction for beginner to intermediate level, provided by a certified instructor.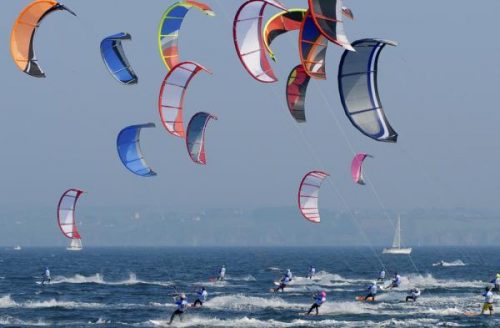 Amsterdam, Netherlands - December 13, 2019 /PressCable/ —
A Moroccan Kiteboarding Camp, for beginner to intermediate kiteboarders, has been launched by Tripaneer, a company based in Amsterdam, Netherlands. Also known as 'kitesurfing', these camps at Dakhla offer a self-improving kiteboarding holiday in an environment with stunning scenery and plenty of coastal wind, and with guidance provided by a professional and certified instructor.
Click on http://kiteboardingbuzz.com for details.
Dakhla is a mid-tropical desert coastal city in the West Saharan area of southern Morocco, and it is known for its large lagoon which has sufficient wind for kitesurfing around 300 days per year. Dakhla is a mecca for kiteboarding, and in 2015 Richard Branson's Virgin group sponsored a Kitesurfing World Cup series with Dakhla hosting the opening event.
With the launch of the Moroccan Kiteboarding Camps, Tripaneer point to some of the highlights: 14 hours in total of kiteboarding lessons using gear by Peter Lynn, taught by IKO certified instructors, with transfers, 7 nights of accommodation and all meals included. Zakaria is the instructor and he provides instruction using the English language, although he also speaks Arabic and French.
The private bungalow-style accommodation is air-conditioned and includes: a dining area, lounge, restaurant, laundry, cafe, garden, multi-lingual staff, car rental, board rental, and free wi-fi internet and vehicle parking. Guests can stay in a standard private single bungalow, through to a 3-person 'Deluxe Triple' private bungalow.
Morrocan Kiteboarding Camps are fun and energetic. Some facts about kiteboarding can be gleaned from research online. It utilises a regular-style surfboard with a kite for a sail and it is a good workout for body-core muscles. Kitesurfing gained in popularity in the 1990s but it has been around since the 1400s when the Chinese used kites to assist their canoes, and today there are over a million kitesurfing athletes around the world.
There are different styles, from racing, to jumping, and freestyle. Kitesurfing only needs a body of water and sufficient wind (at least 11 miles per hour wind-speed), and there are a wide selection of of kites to choose from, ranging from 7 to 200 square feet in size.
Click on the URL above to learn more about the launch of the Moroccan Kiteboarding Camps being offered, or for current detailed booking information, including prices, go to https://www.tripaneer.com/dakhla-kitesurf-world/8-days-beginner-kiteboarding-holiday-in-dakhla-morocco?aid=5547
Contact Info:
Name: Sally Nash
Email: Send Email
Organization: Tripaneer
Address: 542 Singel, Amsterdam, Amsterdam 1017 AZ, Netherlands
Website: http://kiteboardingbuzz.com
Source: PressCable
Release ID: 88939277