Daily Gains Letter's George Leong advises whether or not investors should rid themselves of cyclical stocks and turn to defensive plays.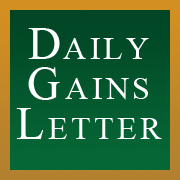 New York,, United States - - April 10, 2014 /MarketersMedia/ — Daily Gains Letter (www.DailyGainsLetter.com), an e-letter of Lombardi Publishing Corporation, a 28-year-old consumer publisher that has served over one million customers in 141 countries, is weighing in on whether it's time for investors to ditch cyclical stocks in favor of defensive plays.
After touching a six-year high the previous week, U.S. stocks retraced on Monday, April 7, as traders turned their backs on economically sensitive cyclical stocks and focused on defensive plays in the utility and consumer staples sectors. The shift comes on concerns that the U.S. economy remains sluggish, coupled with ongoing geopolitical tensions. On top of that, the International Monetary Fund recently downgraded global GDP growth from 3.7% in January to 3.6%. (Source: Rastello, S., "IMF Says U.S. Growth Leads as Russia, Brazil Soften: Economy," Bloomberg web site, April 8, 2014; www.bloomberg.com/news/2014-04-08/imf-sees-u-s-driving-global-growth-amid-brazil-russia-weakness.html.)
"Cyclical stocks, or those companies that swing with the economy, are still worth a look, but should the economic renewal stall and jobs creation dry up, it might be time to look elsewhere," says Daily Gains Letter financial analyst George Leong. "That includes sectors such as auto, furniture, retail, travel, and restaurants."
Leong explains that people spend more freely when the markets look good and investors are making money on the stock market, but curtail their spending on signs of slowing and a drop in confidence. The area that will perform best in an economic downturn is the defensive sector—the area that comprises so-called boring companies that make products that are used every day.
"When the economy is growing, these stocks manage to produce average returns, though they underperform cyclicals," he adds. "However, in a downtrending economy, defensive stocks tend to outperform, and that's what investors are seeing; the Consumer Staples Select Sector has been bullish since February." Leong adds.
"Thanks to weak economic indicators and waning consumer confidence, investors need to focus more closely on the stock market and look for clues as to where the money is going," Leong concludes. "This year may turn out to be the year for defensive plays with excellent dividend flows and the ability to make capital gains while seeking capital preservation."
Founded in 1986, Lombardi Publishing Corporation, which has served over one million customers in 141 countries, is one of the largest consumer information publishers in the world. For more information on Lombardi Publishing Corporation visit www.lombardipublishing.com.
Contact Info:
Name: Wendy Potter
Organization: Lombardi Publishing Corporation
Address: 350 5th Avenue, 59th Floor, New York, NY 10118
Phone: 905 856 2022
Source URL: https://marketersmedia.com/daily-gains-letters-george-leong-advises-whether-investors-should-drop-cyclical-stocks/40006
For more information, please visit http://www.dailygainsletter.com/
Source: MarketersMedia
Release ID: 40006