Daily Gains Letter financial analyst Moe Zulfiqar warns investors that increases on key stock market indices fail to properly reflect trends that could lead to dangerous losses in their portfolios.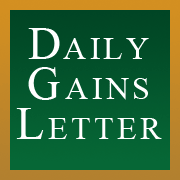 New York, NY,, United States - - November 16, 2013 /MarketersMedia/ — Daily Gains Letter (www.DailyGainsLetter.com), an e-letter of Lombardi Publishing Corporation, a 27-year-old consumer publisher that has served over one million customers in 141 countries, warns that gains on key stock market indices do not accurately reflect troubling trends, which could cause them to slide lower; generating losses in investors' portfolios.
"The S&P 500 has been performing well all year, and is up more than 25% since the beginning of 2013. During the third quarter, the S&P 500 gained 4.8%, and is up 6.2% so far in the fourth quarter," says financial analyst Moe Zulfiqar. "While these are solid numbers, it's important to look below the surface."
By the end of the first week of November, 446 companies on the S&P 500 had reported their corporate earnings; 73% of them were able to show earnings above estimates. Overall, the corporate earnings growth rate was 3.4%. (Source: "Earnings Insight," FactSet web site, November 8, 2013; http://www.factset.com/websitefiles/PDFs/earningsinsight/earningsinsight_11.8.13/at_download/file.)
"These numbers certainly sound good, but looking a little deeper into the details shows that the numbers don't tell the full story," Zulfiqar adds. "While nearly three-quarters, or 73%, of S&P 500 companies that have reported results beat corporate earnings estimates, barely half, or 52%, were able to beat their estimated revenue."
Companies on the key stock indices are showing great corporate earnings, Zulfiqar notes, but are missing on revenues. This suggests their profits aren't really coming from their core business, but from elsewhere, and should be a sign of great concern.
"In the short run, key stock indices look to have momentum to the upside, and we are seeing too much optimism," he concludes. "Things may continue to go that way, but based on poor fundamentals, they can turn very quickly as well."
Founded in 1986, Lombardi Publishing Corporation, which has served over one million customers in 141 countries, is one of the largest consumer information publishers in the world. For more information on Lombardi Publishing Corporation and Daily Gains Letter, visit www.lombardipublishing.com.
Contact Info:
Name: Wendy Potter
Email: Send Email
Organization: Lombardi Publishing Corporation
Address: 350 5th Avenue, 59th Floor, New York, NY 10118
Phone: 905-856-2022
Website: http://www.dailygainsletter.com
Source URL: https://marketersmedia.com/daily-gains-letter-warns-key-index-gains-dont-properly-reflect-trends/26095
Source: MarketersMedia
Release ID: 26095