Daily Gains Letter announces its top investment strategy for 2014 and its expert opinion on a sector that looks ready to outperform.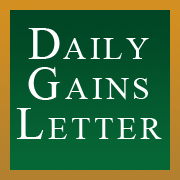 New York,, United States - - January 14, 2014 /MarketersMedia/ — Daily Gains Letter (www.DailyGainsLetter.com), an e-letter published by Lombardi Publishing Corporation, a 28-year-old consumer publisher that has served over one million customers in 141 countries, is releasing its expert opinion on precious metals, an oversold sector set to outperform in 2014. Daily Gains Letter also is also announcing its top investment strategy for the New Year.
"With the New Year just beginning, many investors will begin looking at their portfolio, trying to figure out how to shift their investment strategy to include sectors that should outperform in 2014," says financial analyst Sasha Cekerevac. "One popular New Year investment strategy is to look for a situation where fundamentals are improving, but market sentiment remains weak. This also presents a solid growth opportunity, provided that the long-term investment strategy is sound."
One sector that was hit hard in 2013 was the precious metals sector. Gold bullion prices ended the year down about 28%—the biggest annual drop in more than 30 years. Silver had an even worse year, ending 2013 while down 36%. While the sell-off in gold and silver garnered much of the media's attention in 2013, one investment strategy that might attract considerable attention in 2014 is investing in industrial precious metals, such as platinum and palladium.
Cekerevac explains that the vast majority of demand for both platinum and palladium is for industrial purposes, especially for catalytic converters in the automobile industry. These precious metals are crucial for the production of vehicles, and demand in this sector continues to rise.
"While total vehicle sales for the full year of 2013 aren't in yet, it is expected that U.S. auto sales will be the highest in six years, with an approximately 50% jump from the lows experienced in 2009," he observes. "In 2014, U.S. auto sales will continue to be strong, with an estimated total number of over 16 million units sold."
Cekerevac notes that the investment strategy for these industrial metals is to determine whether or not demand is fundamentally increasing or decreasing. On the heels of economic growth both in America and globally, it's quite clear that these metals' industrial use will continue to rise.
The price of palladium has remained near its highs for the year, but platinum followed other precious metals lower in 2013. Part of the selling pressure earlier in the year was due to exchange-traded funds (ETFs) that were selling precious metals across the board.
"With 2014 upon us, these precious metals look quite favorable. Much of the selling by ETFs appears to have ended, yet fundamental demand for these precious metals remains strong. In this situation, it appears that a bullish scenario is emerging as an investment strategy," Cekerevac adds. "In addition to considering industrial precious metals ETFs, value-oriented investors might want to add individual industrial precious metal stocks to their portfolio."
"The entire precious metals sector, including gold and silver, along with platinum and palladium, has been oversold," he concludes. "When we look back at 2014, we will see just how cheap this sector was at the beginning of the year."
Founded in 1986, Lombardi Publishing Corporation, which has served over one million customers in 141 countries, is one of the largest consumer information publishers in the world. For more information on Lombardi Publishing Corporation and Daily Gains Letter, visit www.lombardipublishing.com.
Contact Info:
Name: Wendy Potter
Organization: Lombardi Publishing Corporation
Address: 350 5th Avenue, 59th Floor, New York, NY 10118
Phone: 905 856 2022
Source URL: https://marketersmedia.com/daily-gains-letter-announces-top-investment-strategy-for-2014/30790
For more information, please visit http://www.dailygainsletter.com/
Source: MarketersMedia
Release ID: 30790