CVS Care Ltd releases information on how its new Cardiovascular System Care service will change the way of early diagnosis of cardiovascular diseases. More can be found at http://www.cvscare.co.uk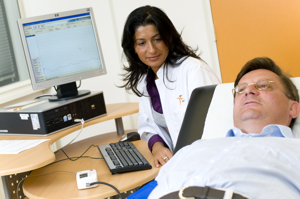 London, United Kingdom - July 12, 2018 /PressCable/ —
Earlier today, CVS Care Ltd announced the launch of its new Cardiovascular System Care service, set to go live 16 July 2018. For anyone with even a passing interest in the world of Human health, this new development will be worth paying attention to, as it's set to shake things up.
Currently, with even a passing glance, a person will notice the fact that the new methodology goes way beyond using blood pressure as the best prevention for cardiovascular disease. This new method enables to diagnose processes leading to heart attack, stroke, or atherosclerosis in early pre-symptomatic stages, 3-5 years before serious health problems occur. The Co-Founder and Managing director of CVS Care Ltd, Mr Stefan Kovac, makes a point of saying "things are going to change when our new service launches".
Mr Stefan Kovac continues: "Where you'll always see our competitors doing the same old thing, we'll use the world-famous Angioscan – an innovative device for early non-invasive diagnostics of cardiovascular system diseases. The device is completely safe and has no contraindications or restrictions. Ultimately this is going to be a huge benefit to our customers; they will get accurate information about the condition of their arteries and vessels, vital information about the functional status of the vascular wall.
Early detection of critical narrowing of the venous, heart arteries and initiation of appropriate treatment can significantly help to save a person's life…"
CVS Care Ltd was established on 26 March 2018. It has been doing business for six years, and it has always aimed to innovate in any large or small way it can, due to the firm belief that innovation drives progress and greater happiness.
Currently, the closest thing to Cardiovascular System Care service is organisations, hospitals/clinics providing Coronary angiogram that charge way too much (average £2,066) compared to us (£65), but CVS Care Ltd improved on this by making the assessment of artery condition, simplest and most affordable method available today. This fact alone will make CVS Care more popular with customers in the Human health space, quickly.
Once again, the Cardiovascular System Care service is set to launch 16 July 2018. To find out more, the place to visit is http://www.cvscare.co.uk
Contact Info:
Name: Stefan Kovac
Organization: CVS Care Ltd
Address: Cvs Care Ltd 71-75 Shelton Street, Covent Garden, London WC2H 9JQ, United Kingdom
Phone: +44-20-3967-8365
Website: http://www.cvscare.co.uk
Source: PressCable
Release ID: 376203