Popular dog brand, Wagglies, have received feedback about their dog probiotics that they describe as essential.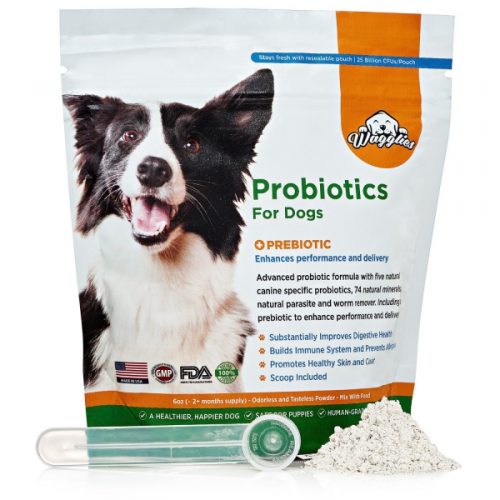 Beaverton, Oregon, United States - June 6, 2016 /PressCable/ —
This week, Wagglies have achieved a new product milestone and received multiple batches of customer feedback. Today, the brand have received essential feedback about their new Probiotics for Dogs from a customer.
The customer spoke of her dogs and why she'd chosen to use probiotics, before mentioning the benefits that she'd seen since her dogs started taking Wagglies' dog supplements, "…[Wagglies Probiotics for Dogs] has been a life saver for my dog. My dogs are relatively healthy and are up to date on shots and see their vet regularly. But one of my dogs appeared to be [not] feeling well last week…I decided to try this probiotic because it is said to be great for their immune system…Well, it works. I mixed it with the food once daily and used the scoop provided with the bag to do so. Two days after using this my dog was back to normal…"
Wagglies have always welcomed feedback from their customers and they are particularly welcoming of feedback about their dog probiotics.
"We worked really hard to develop our dog probiotics so we're eager to hear what our customers think of them." said Dan Clayton, Founder of Wagglies, "We know that no product is ever truly finished so we welcome all feedback from customers that allows us to improve and refine our products."
The brand new Probiotics for Dogs from Wagglies contain 74 trace minerals, 25 billion CFUs, 5 strains of probiotic and 1 added prebiotic. The prebiotic is an added ingredient in the probiotic powder mix that the brand chose to include to enhance the effectiveness of their probiotics.
"Prebiotics are expensive ingredients to include in a product, but we decided to include a prebiotic in our probiotic mix because prebiotics are proven to enhance the effectiveness of probiotics." continued Dan, "The prebiotic in our custom mix encourages good bacteria to grow in the gut and intestines, allowing the probiotics to work more effectively."
Before launching their dog supplements onto Amazon USA in April of this year, Wagglies also released two other dog products onto both Amazon UK and USA in 2015. Wagglies' Puppy Training Pads were released in summer 2015 and were quickly followed by Dog Nail Clippers in winter 2015. Wagglies' Dog Nail Trimmers are still available from both Amazon UK and USA.
Wagglies Probiotics for Dogs are now available in a 6oz bag (∼ 2+ months supply) from Amazon USA: http://www.amazon.com/Wagglies-Probiotics-Dogs-Pre…
Contact Info:
Name: Dan Clayton
Organization: Wagglies
Website: https://www.wagglies.com/us/
Source: PressCable
Release ID: 117921