Many industries are doing away with old methods of measuring distances. Oskiie's PRO600 Laser Rangefinder eliminates the need of using a measuring tape so people can find distances more effectively.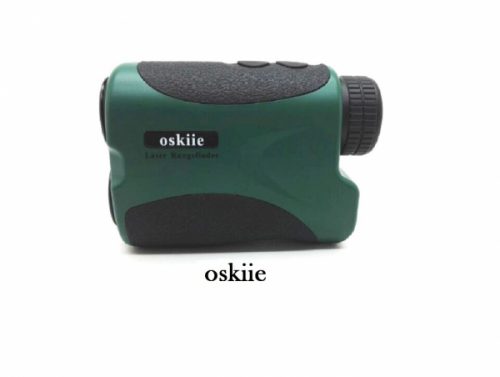 Lutz, United States - June 27, 2017 /PressCable/ — As time goes on, people find ways to make life simpler and easier. Saving time is a top priority for many people these days, so people really value new technology gadgets that help make difficult tasks less complicated. In the past, measuring distances to a target meant people had to walk off yards in golf, or that construction workers had to get up on tall ladders and use measuring tape to find accurate measurements. With recent advances in technology, all of that has changed. Laser technology has come a long way in many industries such as medicine, communications, and engineering. Laser technology now comes to the aid of industries such as golfing, hunting, and land surveying with laser rangefinders.
Oskiie's PRO600 Laser Rangefinder is designed for people to accurately measure distances with a single push of a button. For example, measurements taken at a construction site often entail a construction worker to measure boards, conduits, walls, ceiling heights, and hundreds of other things at a construction site. If measurements are wrong, then the cutting of supplies like conduit will be wrong, and it will cost money to redo the work. With Oskiie's PRO600 Laser Rangefinder, a construction worker's job can be completed more effectively as the Oskiie PRO600 Laser Rangefinder will accurately measure within 1 yard up to 600 yards.
Oskiie's PRO600 Laser Rangefinder measures 4.5"x3"x1.7", and weighs less than 1 pound at 6.526 ounces. It easily finds the distance of flags, trees, hazards, and hunting objects with it's leading Pin Sensor and extended search seeker technology. It serves great purpose to use Oskiie's PRO600 Laser Rangefinder at a construction job site, golfing, hunting, long range shooting, forestry, mining, or out at a land survey. It's water resistant, and can be used in temperatures ranging from -4 degrees Fahrenheit to 122 degrees Fahrenheit. All measurements and the battery life are seen and displayed through the clear optic lens.
It's easy to carry Oskiie's PRO600 Laser Range finder all day long, because it comes with a high quality carrying case with belt loop. The objective lens is .950", with a magnification of 6X, and a field view of 7 degrees. Additional accessories of the hunting and golf range finder are a microfiber lens cleaning cloth, instructions, and a charger for the provided CR2-3V battery.
Nowadays, laser rangefinders help people in the natural resource management and monitoring fields. Foresters rely on laser rangefinders to determine tree heights to decide how much usable timber is available in certain land plots without the need of using a measuring tape anymore. Up until now, never have people been able to find distances so quickly. Now with the help of laser rangefinders such as The Oskie PRO600 Laser Rangefinder, people can now find accurate and precise distances hundreds of yards away with just one push of it's launch button.
Laser rangefinders save people time, and they are a modern way of finding measurements much faster, rather than using an old fashioned measuring tape. Gadgets come and go, but laser rangefinders are here to stay to help make finding distances easier. More information about Oskiie's PRO600 Laser Rangefinder is available at Amazon.com.
https://www.amazon.com/Ranges-Finder-Rangefinder-Batteries-Measurements/dp/B01N331M8W
About Oskiie:
Oskiie was established in 2015, and is based out of Tampa, Florida. The company develops outdoor and sporting items that are fun, functional, and modernistic for all members of the family. Oskiie is committed to continuing to develop products that provide basic solutions in life.
https://www.amazon.com/Ranges-Finder-Rangefinder-Batteries-Measurements/dp/B01N331M8W
Contact Info:
Name: Anne Dykeman
Organization: Oskiie
Address: 16317 Emerald Cove Dr, Lutz, Florida 33549, United States
Source: PressCable
Release ID: 211960