A cryptocurency portfolio management portfolio service with such a diverse range of useful tools like Coinfinance.com is so far unprecedented in the emerging digital currency industry.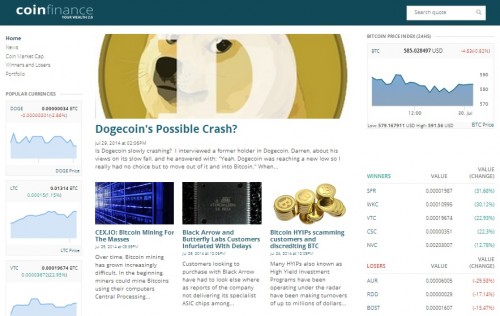 Paraguay - - August 10, 2014 /MarketersMedia/ — CoinFinance.com is a ground breaking cryptocurrency portfolio management service that has been referred to as the Google Finance of the cryptocurrency ecosystem. CoinFinance was launched in February 2014, and in the first three months over 3000 portfolios have been created. The site allows users to analyze over 300 alt coin markets to spot potential investments and view coins which have recently dramatically increased in value. CoinFinance allows enthusiasts to keep track of current investments in multiple currencies by providing up-to-date and historic market data, live quotes pulled from exchanges, and comparisons of a currencies' value against large fiat currencies like the US dollar, Euro, and Chinese Yuan. CoinFinance also features other essential tools such as accurate currency converters, mining calculators and a live aggregated crypto news feed. The progressive platform is also close to launching a mobile app for iOS: aiding cryptocyrrency investors and holders to manage and view their portfolios when on the go.
CoinFinance was developed by a highly experienced team of designers and web developers resulting in a technically advanced and aesthetically pleasing portfolio management experience. CoinFinance allows crypto enthusiasts to effortlessly manage their cryptocurrency portfolio online with multiple tools to help investors make strategically wise decisions on whether it is time to buy, hold, sell or trade the plethora of cryptocurrencies on the market today.
Only an email address is required to create a portfolio and get started. Users simply click the "Create your portfolio" button, chooses a portfolio name, types in the captcha and clicks send. A login hash is showed instantly together with alternative login methods like QR login and the option to receive a login via email; the login hash can then be copied and pasted it into the login box.
To add currencies to the portfolio, users simply search for coins like "Bitcoin" or the code "BTC" and then add the quantity of the selected currency; the choices are then added to the portfolio. The interface can also be used to speculate on the outcome of a currency without any actual investment, for tracking purposes and entertainment. The CoinFinance display at the top shows the 'Coin Wealth' of the portfolio holder live compared with the value of the selected currency pair such as BTC, EUR, USD or CNY.
CoinFinance offers a vital platform in the ever expanding cryptocurrency community where new currencies get introduced frequently. On CoinFinance each coin has an individual page with prices, coin information, charts and markets as well as easily accessible news relevant to the prospects of the alt coin in this ever competitive space.
The 'Wealth Chart' allows the user to see the growth and decline of a currency daily, weekly, monthly or live as a cryptocurrency ticker. An unprecedented 'Snap It' function allows the investor to record the value at any given moment with a snapshot; the snapshot then gets integrated into the personal portfolio wealth graph.
CoinFinance also integrates a social media function where the portfolio can be shared to others on Facebook, Twitter, Google Plus, or via a unique link. The site also offers a widget that can be embedded on any website, showing up-to-date and historical data of their investments.
A cryptocurency portfolio management portfolio service with such a diverse range of useful tools and features is so far unprecedented in the emerging digital currency industry. The innovative cryptocurrency portfolio platform is easily accessible; with only an email required for users to sign up. CoinFinance's various tools for monitoring over 300 emerging cryptocurrencies makes CoinFinance.com an invaluable tool for day-traders, investors, crypto enthusiasts and professionals alike; in this exciting, ever growing and dynamic space.
Contact Info:
Name: Rodrigo Keen
Email: Send Email
Organization: Coin Finance
Address: España 1410 2nd floor Asunción, Paraguay
Phone: +595 981511156
Website: http://coinfinance.com
Source URL: https://marketersmedia.com/cryptocurrency-portfolio-management-platform-coinfinance-com-rising-in-popularity/58654
Source: MarketersMedia
Release ID: 58654