Cost of tattoo removal can be shocking at first, says one Louisville laser tattoo removal clinic, Take It Off. The tattoo removal clinic explains what is really behind the cost of tattoo removal.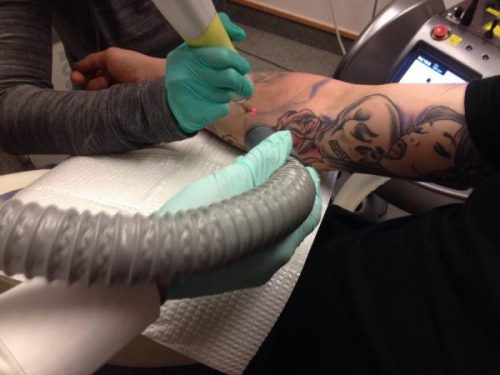 Louisville, United States - February 25, 2019 /PressCable/ —
Louisville, Kentucky- Take It Off, the laser tattoo removal clinic known in Louisville for their state of the art, advanced tattoo removal techniques, want to set the record straight on the cost of tattoo removal in Louisville and surrounding areas including Clarksville, Indiana, and Lexington, Kentucky. Laser tattoo removal is said to be a lot of things, painful, extensive, and, most of all expensive.
Depending on multiple factors including the size of the tattoo being removed, amount of ink in the tattoo and what state the popular trendy laser treatment is being performed in, the cost of tattoo removal can actually vary from client to client.
In fact, certain regulations can even effect how much a laser tattoo removal treatment may cost. The State Medical Boards in America actually determine the regulations on laser tattoo removal as well as all other cosmetic laser procedures. In some states only medical professionals including Registered Nurses, Medical Doctors, Nurse Practitioners, and Physician Assistants are legally licensed to operate a laser device like the one used at Take It Off Laser Tattoo Removal in Louisville, KY.
The popular tattoo removal clinic uses Quanta Q Plus C, which has a reputation of being the best of the best when it comes to "all in one" laser devices which are approved by the FDA.
According to the experts at Take It Off laser tattoo removal in Louisville, laser clinics that are owned by doctors often charge up to 3 times the amount a facility not owned by a medical doctor. These medical practices can often charge more for a tattoo of the same size and ink density. Autumn Davidson, owner of Take It Off laser tattoo removal had this to say about the cost of laser tattoo removal, "when a tattoo removal price quote is given, a lot actually goes into that final cost, more than folks actually think." She explains, "what you are actually paying for with the cost of tattoo removal is the cost of the device beings used, if a company is charging close to nothing to remove a tattoo it may be a big indicator they are using a cheap, useless machine, and as a client, you'd want to steer clear of that."
Take It Off laser tattoo removal says, cheap machines usually come from over seas where the FDA isn't involved in regulating efficacy and functionality of these laser devices.
In addition to cost of machinery, Take It Off says the employees are a big cost to a laser business and is also an important part of what is truly behind the cost of tattoo removal in Louisville, Autumn explains, "At Take It Off, we want to make sure we pay our technicians well, and we ensure they are all properly trained, the technician's wages are also figured into the cost of tattoo removal. If a clinic is quoting unbelievably cheap prices, it may mean they aren't paying their employee fair wages."
The Louisville tattoo removal clinic dedicated to keeping their prices low and offers deals such as buy 5 get 2 free or buy 4 get one free. They also offer military discounts.
To find out more about the cost of tattoo removal in Louisville or to schedule an appointment
online, visit https://www.takeitofflasertattooremoval.com/ or contact the business at 502-203-0101 or stop in for a free consultation 13808 Lake Point Way Suite 201Louisville, KY 40223
Contact Info:
Name: Autumn Davidson
Email: Send Email
Organization: Take It Off Laser Tattoo Removal Louisville KY
Address: 13808 Lake Point Way #201, Louisville, KY 40223, United States
Phone: +1-502-377-7282
Website: http://www.takeitofflasertattooremoval.com/
Source: PressCable
Release ID: 485792