Live on Kickstarter, Cook Eat Slovenia presents the culinary tradition of a nation.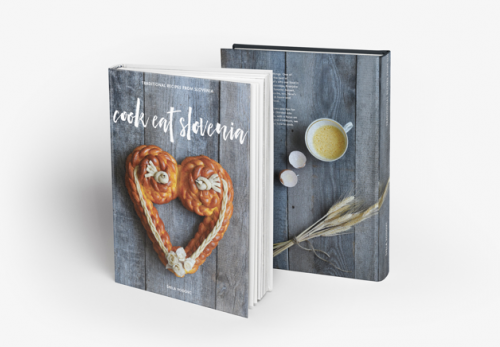 Ljubljana, Slovenia - April 8, 2019 /MarketersMedia/ — Cook Eat Slovenia, the all new cookbook bringing traditional Slovenian recipes and family stories to kitchens worldwide, is live on global crowdfunding platform Kickstarter and raising funds to bring the project to life.
Nestled between Italy, Austria, Croatia and Hungary, Slovenia is the only country in Europe that combines the Alps, the Mediterranean, the Pannonian Plain and the Karst limestone plains. Within a tiny square mileage truly lies a hidden gem for foodies, with 24 culinary regions in which, over the centuries, culinary influences have merged with local tastes to form a unique, diverse and distinct Slovenian cuisine. Cook Eat Slovenia is a cookbook that aims to share the culinary tradition of this rich nation packed with treasured recipes and the family stories behind them.
"Four years ago I started with cooking classes in Ljubljana to present traditional Slovenian food to travelers from all around the world. Experience with the local girl who teach them how to cook traditional Slovenian food I have eaten at home since I was a little girl," says founder Špela Vodovc on the inspiration behind the project. "The dream of making this cookbook grew in me since the beginning of my cooking classes. With my first cookbook I want to bring traditional Slovenian recipes to the world and help the world to discover Slovenian food."
Cook Eat Slovenia, the cookbook, is divided into recipes based on each of the four seasons. Each recipe tells a story and illuminates the cooking philosophy, the fresh and local ingredients and the family stories behind each of the dishes. Through over 100 unique recipes, Cook Eat Slovenia presents a rich and colorful experience into traditional Slovenia food and culture.
At it's core, Cook Eat Slovenia aims to share a love for food, cooking and eating- all wrapped around its most important feature- the family. Vodovc hopes this cookbook will further serve as a guide to an amazing culinary destination, the beautiful country of Slovenia.
"Food has always played an important role in my family and I'm continuing that legacy.  I learned how to cook the old-fashioned way, and now I want to share my passion and enthusiasm for food and Slovenian cuisine with the world," adds Vodovc. "The cookbook presents the culinary tradition of a nation and will be packed with treasure recipes that have been in my family for generations. It is more than just a cookbook it is also a travel guide to an amazing culinary destination."
Cook Eat Slovenia is currently live and available to support on Kickstarter: https://www.kickstarter.com/projects/344644959/cook-eat-slovenia-the-cookbook
About Cook Eat Slovenia
Cook Eat Slovenia is a pioneer company for gastronomic tours and experiences in Slovenia. We believe that every great adventure is blend of nature, history and delicious food and wine. Our ultimate goal is to present the best Slovenia has to offer on plate combined with nature, traditions and local way of life.
For more information on Cook Eat Slovenia please visit https://culinaryslovenia.com/
###
Contact Info:
Name: Chris Woods
Email: Send Email
Organization: Cook Eat Slovenia
Website: https://culinaryslovenia.com
Source URL: https://marketersmedia.com/cook-eat-slovenia-is-a-cookbook-bringing-traditional-slovenian-recipes-and-family-stories-to-kitchens-worldwide/499941
Source: MarketersMedia
Release ID: 499941