Convert Audio Free has designed a MP4 to MPG converter to switch the specialised modern format into a more universal older format, allowing videos to be shared and viewed on more devices.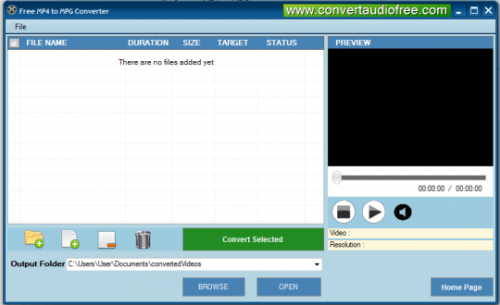 Seattle, WA,, United States of America - - December 4, 2013 /MarketersMedia/ — MP4 is a video codec used for encoding audiovisual media for playback on computers and online. Vimeo in particular is an advocate of the higher quality MP4 codec and allows many of its videos to be downloaded using this format. However, the format does have playback issues on many devices, including mobile phones and tablets, but especially older PCs. In order to watch MP4 files, individuals first need to convert them to a playable format, and Convert Audio Free has made that possible by creating their free MP4 to MPG converter.
The company has designed the software in order to convert MP4 to MPG without any advanced technical knowledge of specialist software like Final Cut or Premier Pro. The software is completely free to use and the company do not hide any of its features behind a premium price band.
It can be downloaded directly from the Convert Audio Free website or from one of the major software syndicators like CNET or Softpedia. It features a simplistic, easy to use user interface and a free unlimited license so individuals can convert one or many files as and when they download them. The software creates an MPG duplicate of the original file, so there is no need to worry about loss of original data.
A spokesperson for Convert Audio Free explained, "These modern codecs always fall down in the same area, and that's backwards compatibility. While MP4 works great on the minority of cutting edge devices many individuals are using laptops and PCs that are three to five years old, and their default players don't have the codecs to support MP4 playback. So, we created this codec converter that will take MP4 files and make them into MPGs so anyone can watch them."
About Convert Audio Free:
Convert Audio Free are the world's leading software developer in the field of audio conversion. Since 2011 they have been creating new and exciting programs to convert the industry's largest array of file formats. Now they have turned their hand to video format conversion and are developing a comprehensive suite of software with the same ease of use that has made them so popular with CNET and SoftPedia.
Contact Info:
Name: Sam Brown
Organization: Convert Audio Free
Phone: 206.743.6587
Source URL: https://marketersmedia.com/convert-audio-free-launches-mp4-to-mpg-converter-for-those-with-codec-problems/27361
For more information, please visit http://convertaudiofree.com/
Source: MarketersMedia
Release ID: 27361