Obvious Candidate releases a controversial article "Recruiters Don't Read CVs / Resumes", which may cause upset amongst Recruiters. https://www.linkedin.com/pulse/recruiters-dont-read-cvs-resumes-sam-waterfall/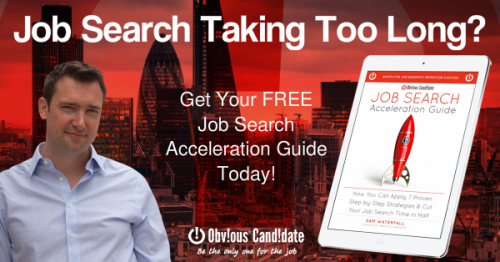 London, United Kingdom - February 13, 2018 /NewsNetwork/ —
Obvious Candidate has released a potentially controversial article "Recruiters Don't Read CVs / Resumes", bringing some cause for concern, as the article may upset Recruiters / Hiring Managers / Business Owners.
The short, 500 word article examines the high points and low points of CV Writing / Resume Writing / Job Search Acceleration, in the pursuit of providing insight into how to write a CV or write a resume that will actually get noticed and get read. In quite an unusual manner for Obvious Candidate though, a certain element of the article is set to trigger discontent amongst Recruiters.
Below is a portion of the piece, which neatly exemplifies the controversial element:
"Did I mention that recruiters don't read CVs? Well, let me explain, it's not that they don't look at them. But they don't process them with a linear read, line-by-line, point-by-point, the way you want them to as you detail and edit every pain-staking word. In truth, it's more of a scan or skim-read. Watch any experienced recruiter and you'll see they've assessed you in a matter of seconds. And it's usually nearer 10 than 20."
A spokesperson for Obvious Candidate, Sam Waterfall, says "Of course Obvious Candidate never sets out to intentionally upset anybody. The aim of our articles is first and foremost to help improve the quality and impact of CV writing and resume writing. It is critical, however, that we stay dedicated to our true voice.
Although our "Recruiters Don't Read CVs / Resumes" might unsettle a few Recruiters and Hiring Managers, our duty is to our readers. We believe it's more important to alert and awaken those writing old-fashioned, ineffective CVs that are failing to sell their subjects' skills to employers, than to please everyone. Which is notoriously difficult to do."
Although there has been no backlash as of yet, the possibility exists as the article may be perceived to suggest they don't pay enough attention to their work or care for their clients.
Obvious Candidate has been a provider of in depth articles in the Job Search / Job Interview market since it began back in 2003.
Obvious Candidate has stated its future aims are to help ambitious job candidates and promotion hunters to position themselves for the next step of their career. So Obvious Candidate hopes any controversy will pass quickly and re-emphasises no offence is or was intended.
Obvious Candidate's complete article can be found at https://www.linkedin.com/pulse/recruiters-dont-read-cvs-resumes-sam-waterfall/
Contact Info:
Name: Sam Waterfall
Organization: Obvious Marketing Ltd. (Trading as "Obvious Marketing" & "Obvious Candidate")
Address: 222 Regent Street, London, England W1B 5TR, United Kingdom
Phone: +44-20-7096-2089
Website: http://obviouscandidate.com
Source: NewsNetwork
Release ID: 299934