Computer users can now quickly and easily protect their PC Monitor from dust simply by tapping into Amazon FBA and selecting a vinyl monitor cover to fit it. Computer Dust Solutions, LLC (Hancock, MI) has joined the FBA phenomenon.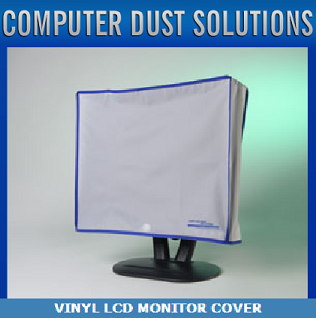 November 8, 2013 /MarketersMedia/ — Computer equipment and peripherals need to be isolated from dust to ensure the system remains clean and in good working condition. Computer Dust Solutions is recognized as a provider of top quality computer covers that protect the user's monitor, CPU, keyboard and printer from the ravages of dust. The company is pleased to announce their high tech antistatic vinyl monitor covers are now available on Amazon FBA.
In today's evolving business world, fulfillment by Amazon (FBA) offers advantages to businesses and consumers alike. With FBA, products are eligible for super saver shipping, Amazon prime and featured merchant status. FBA can fulfill orders from users through other channels as well. By providing users the facility to browse and buy high tech antistatic vinyl monitor covers through Amazon FBA, Computer Dust Solutions aims to connect with more computer users.
The monitor covers are manufactured from a translucent, water resistant and anti-static vinyl material for effective dust, moisture and static protection. The scientifically advanced copolymer repels dust and moisture like rain off a duck's back feathers. In addition, the cover material is cold resistant, supple and flexible down to an incredible -80° F, so installation and storage is a breeze. In other words, there is none of the crinkly, brittle material of ages past. The company says these display protectors are durable as well, constructed of 0.2mm thick material for long-lasting protection.
"Without protection in a dusty environment the sensitive electronic components inside your computer processor and monitor will quickly become coated with dust and other air-borne particles. The monitor covers are available in a wide range of sizes to ensure a good fit", company officials said in a statement to Broadcasterr. The new listing can be found at, Monitor cover.
Contact Info:
Name: Erik Keranen
Email: Send Email
Organization: Computer Dust Solutions, LLC
Website: http://www.computerdust.com
Source URL: https://marketersmedia.com/computer-dust-solutions-llc-now-offers-high-tech-antistatic-vinyl-monitor-covers-on-amazon/25609
Source: MarketersMedia
Release ID: 25609