Agape refuses to pay employee for overtime hours worked during employment. Attorneys Barrett and Farahany file suit to recover wages due under the Fair Labor Standards Act of 1938.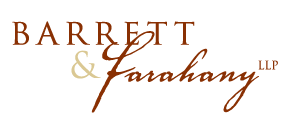 Atlanta, GA,, United States - - October 13, 2013 /MarketersMedia/ — According to the Fair Labor Standards Act (FLSA) of 1938, unless they are exempt, employees who work more than 40 hours a week are entitled to overtime pay. However, many companies disregard the law and the hard work of their employees, refusing to pay the funds to which these diligent workers are entitled. Today, the Atlanta law firm of Barrett & Farahany, LLP announced it filed a complaint in United States District Court on September 30, 2013 against Agape Hospice Care, Inc. for failing to appropriately compensate an employee for overtime work.
From April 2011 through April 2013, plaintiff Victoria Hosley worked for Agape as a medical records manager and was paid on an hourly basis. Hosley was required by Agape to work beyond 40 hours and off the clock in order to coordinate admission of clients into hospice care, prepare for internal meetings, and manage the filing of medical records. In addition, when Hosley was terminated by Agape in April 2013, the company denied her last paycheck due for work she performed prior to the end of her employment.
Agape's refusal to pay Hosley for overtime work is in direct violation of FLSA regulations which require companies with $500,000 or more in annual revenue to pay time and a half to non-exempt employees who work more than 40 hours in a workweek.
Said Amanda A. Farahany, attorney for Barrett & Farahany LLP, "Overtime provides companies with the financial benefits of productivity and profitability, but too many times the dedicated workers who put in the extra time see none of the monetary rewards. FLSA was enacted to protect employees from oppressive working hours and ensure they're adequately compensated for their overtime hours at work."
About Barrett & Farahany LLP
The Atlanta Attorneys of Barrett & Farahany are known for taking ground breaking positions and important stands on behalf of employees and individuals. Protecting "Justice at Work"! They represent individuals in employment claims, including wrongful termination, FMLA, discrimination, overtime, executive compensation, and sexual harassment cases.
Contact Info:
Name: Amanda Farahany
Email: Send Email
Organization: Barrett and Farahany LLP
Address: 1100 Peachtree Street, Suite 500 Atlanta, GA 30309
Phone: 404-620-6733
Website: http://www.barrettandfarahany.com
Source URL: https://marketersmedia.com/complaint-filed-by-atlanta-employment-lawyers-against-agape-hospice-for-flsa-violations/24034
Source: MarketersMedia
Release ID: 24034