Facebook is without doubt the most powerful advertising medium with the biggest ad reach on the Internet. Couple that with Facebook's comprehensive and rich targeting system, TeknikForce Company has brought out a system that can directly engage with customers using FaceBook Ads Messenger – ClickMSG.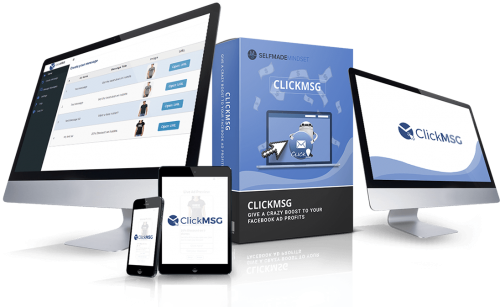 January 6, 2017 /MarketersMedia/ — Here is ClickMessenger, a web base solution that will give users the power to send highly customized and personalized message to their audience without having to become a computer expert. ClickMSG lets its users create ad messages in a 100% graphical system that works similar to the FaceBook Ads manager.
Facebook Messenger Ads is undeniably a very great advertising mean and if marketer still not using them, they are letting the most potential advertising method on Facebook go unutilized. Facebook allows their advertising partner to send a personal message to anyone who clicks on their ad. It pops up right in visitors' inbox and users can put in it anything they want: calls to action, sign up offers, photographs, sales pitches, coupon codes and even surveys.
This function brings a tremendous opportunity; get into the inbox of any visitor who clicks users' ad with 100% inboxing and delivering a personal pitch. Therefore, users are going to get an instant boost in their return on FaceBook ads investment and achieve more profits, better conversions and more leads. In another word, advertisers who are not availing this opportunity are stepping backward compare to their competitors.
The problem is it is not something everyone can setup on their own. It requires technical and programming knowledge. Unless they understand how to write a JSON structured message, they cannot make it works.
However, with ClickMSG user will even be able to reach out to every single person who clicks on their FB ads. Personal inbox that gets 100% attention and 100% readership from viewers.
Their ads audiences are going to be one hundred percent engaged. ClickMSG's users do not need to learn about JSON or any coding skill. With ClickMSG, users can just simply type and create Facebook Messenger ads in the normal way. They even get a live preview on the side to have user reconsider the message if there is any defect. Moreover, with the easy-to-use function, anyone even a newbie with minimum exposure to Facebook ads as long as they have a computer with basic typing skill and a fantastic marketing brain, they might be pulling in more dollars than all their competitors in a minimum time.
Take a look at some of this software's features:
• Easy to use SAAS: Marketers will have this software all setting up and running in no time at all due to the very easy-to-use function
• Live Preview: User can check how their ad will look on the side with completely selected image and options. These previews are showcased in the simple visuals form regardless of headache-inducing codes and syntax.
• Type & Create Graphical Messenger Ads: User can just type out a few quick details and create their messenger ad without having to deal with programming knowledge and JSON structures.
• Save & Retrieve Ads Anytime: User can also record the ads they set up and retrieve them, modify them as well as generate
JSON from them in the short time.
Users can quickly install ClickMSG to messenger ads system up & running it in less than 2 minutes in a three-step procedure:
• Step 1: Add and customize the Graphical Messenger Ad on ClickMSG
• Step 2: Export To JSON on the software
• Step 3: After the messages are transfer to JSON code, Paste & Run the customized Ad
Step 2 and step 3 are merely one step. User only need to type out some details they want and let ClickMSG transfer it to Facebook compatible JSON code that can be pasted directly into Facebook ad page and run graphical messenger ads right away.
Without ClickMSG, advertisers will have to spend money to programmer for each and every messaging campaign. Coming along with that is the time they have to wait for coding process.
It is obvious that ClickMSG is going to change the way of Facebook marketing. In any case, ClickMSG is the technology that marketers absolutely have to avail.
Contact Info:
Name: Gerald I. Smedley
Email: Send Email
Organization: Uzumaki & Assistants Corp.
Address: 1176 Lowndes Hill Park Road
Phone: 415-277-4030
Website: http://crownreviews.com
Video URL: https://www.youtube.com/watch?v=1E-KgTsQ6bQ
Source URL: https://marketersmedia.com/clickmsg-new-tech-allows-user-to-send-graphical-eye-catching-personal-messages-right-into-every-prospects-fb-inbox/159414
Source: MarketersMedia
Release ID: 159414