Nicholas Pastras, a cleaning company CEO with 22 years experience in the commercial cleaning industry, has published an exhaustive checklist to help facilities managers hire a reliable and professional contract cleaner, easily. This is usually a difficult thing to do for someone without extensive experience.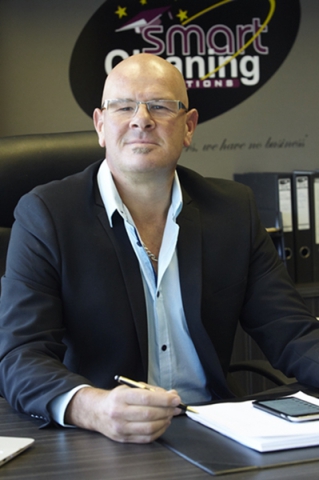 Mt Waverley, Australia - May 11, 2017 /PressCable/ —
Nicholas Pastras, the Owner and CEO of one of Australia's fastest growing Commercial Cleaning Company's Smart Cleaning Solutions, has published an exhaustive list of questions for Facilities Managers and business owners to ask commercial cleaning companies before hiring them or signing a services agreement.
This is a timely and useful resource for anyone in the facilities management industry, as the outsourcing of cleaning services is now the most common way to manage office and commercial cleaning needs.
The checklist contains 37 questions under 7 topics and can be downloaded for free from a blog on the company's website titled 7 Critical Questions You Need to Ask a Commercial Cleaning Company Before Hiring Them
The blog provides context to the checklist and explains why the questions in the checklist are important and relevant, and is based on what Pastras considers to be a list of non-negotiable essentials he has identified during his 22 years of experience in the commercial cleaning industry. Talking about the relevance of the blog and checklist to Facilities managers, Pastras says "The biggest mistake people make when contracting commercial cleaners is not knowing the right questions to ask them before signing a contract".
Getting the right contractor the first time is crucial", say Pastras because "a cleaning contract typically runs for a 12-24 months term, and every cleaning company rep you talk to will try and convince you that they are your best choice provider, so it's very difficult for people without experience in the industry to accurately assess the capabilities of companies pitching to them. Get it wrong and they'll quickly find themselves having to go through the process again very quickly because a clean business is an OH&S necessity, and is vital to the image and brand of a business" he said.
The checklist contains questions covering every aspect of what Pastras says are 'the 7 critical areas' that need to be ticked off for a potential contractor to be professional, reliable, consistent and trustworthy. The seven areas cover the experience of the contractor or cleaning company, what quality control processes and procedures they have in place, issues around security and police checks, procedures and recommendations around feedback and communications protocols, questions around defining a cleaning schedule and scope of works and issues to watch for in terms of the written agreement signed with the cleaning company.
Pastras is available to answer questions about the blog, the checklist or any issue regarding the commercial cleaning industry.
Contact Info:
Name: Nicholas Pastras
Organization: Smart Cleaning Solutions
Address: Central 2, Level 3, Suite 44, 1 Ricketts Road,, Mt Waverley, Victoria 3149, Australia
Website: http://smartclean.com.au
Source: PressCable
Release ID: 198441