Dental implants offer patients an alternative to bridges, crowns, and dentures reports CI Dentistry.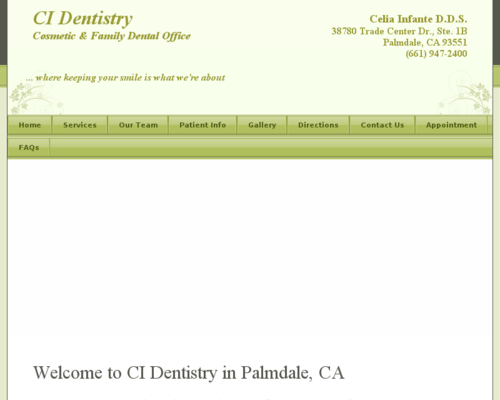 Palmdale, CA,, United States of America - - June 9, 2014 /MarketersMedia/ — According to figures collected by the American Academy of Implant Dentistry, over 30 million Americans have no teeth in one or both jaws. Three million Americans now have discovered implants while 15 million have crown and bridge replacement. As more learn of the benefits of dental implants, industry growth projections continue to rise, and the Academy predicts the dental implant market will reach $5 billion by 2018. Only ten percent of American dentists currently offer this option, yet this number is increasing. Individuals searching for dental implants in palmdale often turn to CI Dentistry to have this work done.
"CI Dentistry feels patients need options when it comes to replacing missing or failing teeth, with dental implants being one option. When one loses a tooth, their ability to chew reduces and other teeth may begin crowding or tipping. This leads to a whole new set of issues completed unrelated to those involving the loss of confidence and self esteem. Dental implants solve these issues and many others," Dr. Celia Infante, a dentist in palmdale and spokesperson CI Dentistry, explains.
Dental implants substitute for those roots lost when the tooth came out and anchor the replacement tooth or teeth. Implants work for most individuals, especially those who no longer benefit from removable dentures, and can be used on patients of any age. Dentists consider dental implants to be more predictable than other options, including resin bonded bridges, bridgework, and endodontic treatment.
"Speak to a dentist today to learn if dental implants are the right solution for any dental issues you are experiencing. Many find they benefit greatly from this option, yet each patient must undergo a complete dental and medical history before moving forward. This ensures the implants will provide the desired benefits without any major drawbacks," Infante continues.
In addition to dental implants, CI Dentistry offers a variety of other services. Inlay restorations, porcelain veneers, and sealants may benefit a patient and the same is true of root canal therapy, tooth whitening, and periodontal disease treatment. Patients consult with the dentist to determine what services are needed for their particular situation.
"Everyone deserves to have a great smile, and CI Dentistry remains committed to helping patients achieve this goal. Contact the dental practice today to start the process. The sooner one does so, the sooner he or she can have a beautiful smile, one they can't want to share with others," Infante promises.
About CI Dentistry:
CI Dentistry provides clients with the best experience achievable, from routine checkups and cleanings to total smile makeovers. The dental practice employs a team of skilled, highly trained clinicians, priding themselves on providing outstanding care at all times through continual education and improvement. Each patient receives individual care as everyone is unique and the team understands a one size fits all approach fails to work in the dental setting. The practice strives to provide personalized care and service while making visits comfortable.
Contact Info:
Name: Dr Celia Infante
Organization: CI Dentistry
Phone: (661) 878-9686
Source URL: https://marketersmedia.com/ci-dentistry-kicks-off-dental-implant-awareness-campaign/50810
For more information, please visit http://www.cidentistry.com
Source: MarketersMedia
Release ID: 50810