A FREE Maximized Living Workshop is offered on how to use specific physical movement for everyday tasks presented by Dr. Alan Arstikaitis, on Monday August 20th, 2018 at 6:00 PM at Winchester office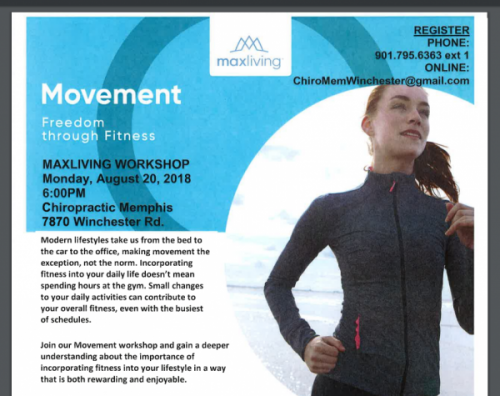 Memphis, United States - August 15, 2018 /PressCable/ —
August 15th — Germantown TN
Chiropractic Memphis Germantown Southwind Office offers FREE Workshop on How to Incorporate Physical Movement During Everyday Tasks For All Ages.
A FREE one hour Maximized Living Workshop is being offered on how to incorporate physical movement of your body while doing everyday tasks even at your office job. The free workshop will be presented by Dr. Alan Arstikaitis, chiropractic doctor at Chiropractic Memphis Germantown Southwind office, on Monday August 20th, 2018 at 6:00 PM at his practice location on 7870 Winchester Rd, Memphis TN 38125.
Dr. Alan Arstikaitis comments "Physical movement of the body throughout the day is crucial to healthy living and strengthens the body by doing certain activities while accomplishing everyday tasks. We will teach easy ways to incorporate physical exercise that most people have not considered that have great benefits for the body, mind and metabolism. A very large percentage of workers are sitting behind desks most of the day and then go home to sit and watch television for the rest of the evening. We have a great number of young children sitting for long periods of time playing video games which is one of the causes of obesity at such young ages, besides the fast food epidemic. Most seniors are not physically moving enough and these types of sedentary lifestyles does more damage than most realize. Our bodies need to move and this presentation will provide so many easy ways to get the physical movement needed daily that does not require one to go the gym for an hour as most don't have that luxury of available time nor the physical strength."
As a practicing Maximized Living office, Dr. Alan Arstikaitis's presentation will include the following topics:
1. How sitting for long periods of time affects your entire body and what scientific studies have proven what the physical and mental state challenges of a sedentary lifestyle create.
2. Simple Ways to incorporate intentional physical movement during everyday tasks without taking more time.
3. Small changes in planning the day's activities can be easily adopted with great results.
4. A review on how the spine and back discs and entire body are affected by hours of sitting.
5. How Metabolism and improvement in mental states can be increased with physical movement that is not strenuous.
6. How posture while sitting is important and demonstrations on how to sit properly will be presented.
7. A review of the many benefits of what types of illnesses and diseases being active can reduce the chances of having these issues.
The FREE workshop will also address how to include physical movement for all different lifestyles and ages from young children, young adults, adults and seniors. To register for this free workshop please call 1.901.795.6363 ext 1 or contact us via email at chiromemwinchester@gmail.com We welcome friends and families from the Germantown, Memphis and Collierville TN community.
Contact Info:
Name: Dr. Alan Arstikaitis
Email: Send Email
Organization: Chiropractic Memphis Southwind Germantown
Address: 7870 Winchester Road, Memphis, TN 38125, United States
Phone: +1-901-795-6363
Website: https://chiropractic-memphis.com/about-us/germantown-southwind/
Source: PressCable
Release ID: 393338