Tune in Monday January 13th as Kellie and Caroline will talk all things fats, good fats and bad fats and how to eat well to live well.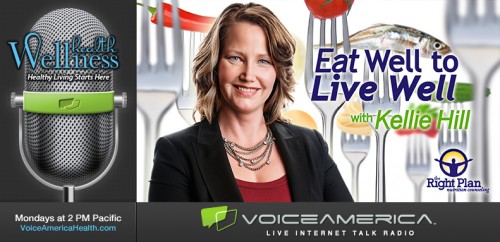 Portland, OR,, United States - - January 8, 2013 /MarketersMedia/ — Most foods contain several different kinds of fat, and some are better for the health than others. Everyone don't need to completely eliminate all fat from the diet. In fact, some fats actually help promote good health. For optimal health human have to choose their fats wisely and with great care.
Healthy fats aren't the enemy and healthy fats don't make everyone fat. Learn the difference between good fats and bad fats. With the assistance of Caroline Barringer, Founder and Co-CEO/Director of Immunitrition, learn the types of fats, the role of healthy fats, get easy to follow guidelines, what to look for on labels, and how to cook with fats so human can Eat Well AND Live Well.
Caroline Barringer is the Founder and Co-CEO/Director of Immunitrition, Inc. and she served as Vice-President and an active Board of Directors member for 3 consecutive years for the Nutritional Therapy Association (NTA). Caroline is and a Nutritional Therapy Practitioner (NTP), NTA East Coast Lead Instructor, Master Certified Healing Foods Specialist (CHFS), Certified GAPS Practitioner (CGP), published health author, international health lecturer, and food rights activist.
Her own health challenges led her to many years of study and research relating to the direct connection between diet and the strength of the immune system - a connection, which the world of modern medicine doesn't often consider as a major factor contributing to dis-ease.
For the past three years, Caroline has been working closely with Dr. Natasha Campbell-McBride, author and creator of the Gut and Psychology Syndrome Diet (GAPS Diet), organizing national Certified GAPS Practitioner Trainings. Caroline produced and appeared in the official Cooking with GAPS DVD and she is currently working on several health and wellness projects to be launched in 2014.
Caroline's mission is to change the way the world eats through nutrition education, performance, and publication; to help empower individuals to make responsible and healthful food choices for restoring and maintaining a higher quality of life.
"Eat Well To Live Well" can be heard every Monday at 2 pm pacific on Voice America's Health and Wellness Channel. Past episodes of "Eat Well To Live Well" are available on iTunes or at http://therightnutritionplan.com/
About Kellie Hill:
Kellie Hill is the National Talk Show Host of Eat Well To Live Well on the Voice America Network. Kellie received her Bachelor of Arts from Willamette University in Speech Communication and a Bachelor of Science from Kaplan University in Nutrition, Health & Wellness. She has a Nutritional Therapy Practitioner Certificate from Nutritional Therapy Association. Kellie has earned a Personal Trainer Certificate from American Sports & Fitness Association.
For more information Kellie Hill and Eat Well to Live Well, please visit http://therightnutritionplan.com/.
Contact Info:
Name: Kellie Hill
Email: Send Email
Organization: The Right Plan
Phone: (855) 772-PLAN (7526)
Website: http://therightnutritionplan.com/
Source URL: https://marketersmedia.com/caroline-barringer-joins-kelly-hill-to-chew-the-fat-on-eat-well-to-live-well/29631
Source: MarketersMedia
Release ID: 29631