El Cajon Senior Caregiver and Home Care Agency publishes an important guide on "How to Find a Trusted, Competent Skilled Nursing Service." Offers Free Online Needs Assessment to Help Families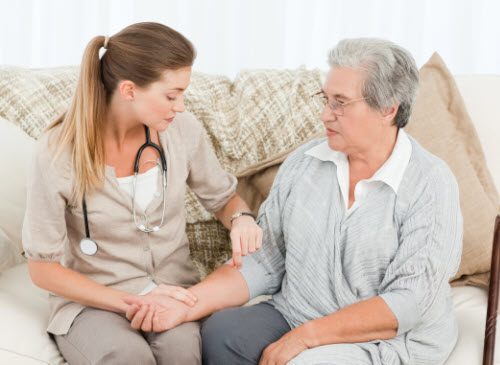 El Cajon, United States - September 27, 2019 /MarketersMedia/ — Firstat Nursing Services, a senior in-home caregiver agency serving El Cajon publishes homecare guide, How to Find a Trusted, Competent Skilled Nursing Service."
"For many busy families today, choices about how to care for a loved one who is aging or sick can be stressful," says Linnea Goodrich, president of Firstat Nursing Services. While there are many great full-time living facilities, not every senior is ready to leave the home they love.
When considering skilled nursing, here are three critical things to look for when seeking a trusted, competent service.
Full Licensing and Certification - Before any conversation begins, make certain the in-home skilled nursing service being considered has only licensed and certified professionals on board. Registered nurses with full certification ensure loved ones get the medical attention they need, when they need it most. The best providers offer certification for Alzheimer's and Dementia care too, helping families navigate the uncertainties of difficult disease.
A Great Reputation in the Community - Don't be afraid to reach out to friends, relatives and anyone that may have had the opportunity to secure in-home care. Was their experience positive? If not, why? Researching the caregiver agency being considered as a business and as a service is an important part of making a well-informed choice. Great businesses worked hard to build a reputation with the local community that's positive. Decades or more of serving the community is an important sign of trustworthiness and dependability that shouldn't be overlooked.
Friendly, Personable Staff - With experience and qualifications prioritized, it's easy to forget about friendliness and personality. Chances are loved ones will spend a lot of one-on-one time with a skilled nurse, so it helps when they're warm and friendly. Exceptional in-home care moves beyond qualifications, to real people with a positive outlook and a friendly demeanor. Compassion and kindness are important and may be what differentiate the best caregivers from those who just go through the motions.
People wanting to learn more about home health, caregivers, in-home care and Firstat Nursing Services are encouraged to call 619-220-7600 or go https://firstatofsandiego.com/caregivers-el-cajon-senior-in-homecare/ and take a free online needs assessment.
About Firstat Nursing Services
Linnea Goodrich is the owner of Firstat Nursing Services, which is the only Home Care Agency in San Diego that is both State licensed and certified by the Alzheimer's Association. Firstat Nursing Services has been providing a higher standard of home nursing, home health and home care services for elderly, disabled and injured people in the greater San Diego area since 1997.
To give families and seniors a better understanding of how in-home care can help their daily lives, Firstat has developed a free online assessment tool. To see how it can help, go to: https://firstatofsandiego.com/free-needs-assessment/ or call 619-220-7600 to learn more.
Firstat Nursing Services
411 Camino del Rio South, Suite 100
San Diego, CA 92108
619-220-7600
https://maps.google.com/?cid=5806675770523173072
Contact Info:
Name: Linnea Goodrich
Email: Send Email
Organization: Firstat Nursing Services
Address: 411 Camino del Rio South, Suite 100, San Diego, CA 92108
Phone: 619-220-7600
Website: https://firstatofsandiego.com/
Video URL: https://www.youtube.com/watch?v=IAfBP4AMuJs&feature=youtu.be
Source URL: https://marketersmedia.com/caregivers-el-cajon-senior-in-home-care-agency-publishes-ways-to-find-a-trusted-competent-skilled-nursing-service/88919925
Source: MarketersMedia
Release ID: 88919925