Avrek Law Firm awards $9,000 in Scholarship funds for best distracted driving videos.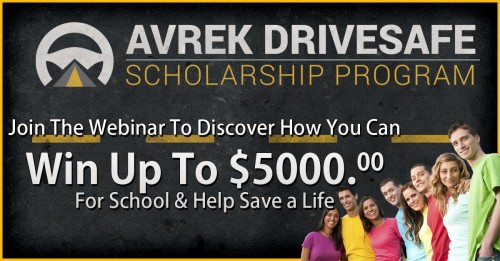 Irvine,, United States - - September 11, 2014 /MarketersMedia/ — Avrek Law Firm announces the launch of the DriveSafe Scholarship Contest, a 501c, viral video contest on the dangers of distracted driving awarding $9,000 in scholarship funds with 1st prize winning $5,000.  Distracted driving has become a deadly problem on roads today. Avrek, a law firm specializing in personal injury, has been serving the Orange County community since 1998, and in recent years they've seen a dramatic increase in car accident cases involving some form of distracted driving. 
Car accidents like this happen too often explains Riverside car accident lawyer and Avrek Law partner Maryam Parman, who represents many clients injured by distracted driving like, Robert Soria, an 18 year old Riverside citizen, who was seriously injured and lost a friend hit hit by a car in June. She believes the accident was caused because the driver - an 18 year old female - turned to talk to her friends in the back seats, hitting the car that Robert Soria and four other friends were driving, four sustaining serious injuries and one killed.
Robert Soria doesn't remember much, waking in the hospital with fractures on his skull, pelvis, right ankle, problems with his inner stomach and facial injuries resulting in an eye injury. "My wounds are almost healed now, but I don't think the realities have set in yet.  One of my closest friends is dead, says Robert, "I can't believe it".
"I see the consequences of people using their cell phone, put on makeup, eat, or something else while driving, all the time," says Maryam, "It's terrible, and I see more and more of these accidents. We have therefore decided to do something."
That's why Avrek Law Firm developed the DriveSafe Scholarship Contest. The scholarship program is designed to help educate and inform high school and college students and their communities about the dangers of distracted driving as well as help fund college or university educations for the winners of the video contest.
DriveSafe Scholarship program is viral video contest.  Videos will be posted on YouTube and can be any format: Journalistic, documentary, PSA, Song, Sketch or compilation.  Ten finalists will be chosen and a panel of judges will determine the top 3 awarding: 1st prize $5000 scholarship, 2nd prize $2500 scholarship and 3rd Prize $1500 scholarship. Participants can register at: http://www.avrek.com/scholarships/
http://youtu.be/2Llh-4Hg3WQ
Non-students can also get involved in this process of revolutionizing the way we all drive on our roads and can win exciting prizes such as Visa gift cards by participating in the referral contest. This is a points based contest where participants can earn points by simply sharing the Avrek contest link across social media channels so more people are exposed to the dangers of distracted driving and more students get a chance to enter the scholarship and pay for their education. Entries are due by December 31st, 2014.
As active members of this community, Avrek Law Firm, wanted to do their part to help stop accidents like these from happening and prevent the lifelong impact that distracted driving accidents can create.  "All of us need to come together, help spread the word and educate each other how dangerous distracted driving is to ourselves, friends, families and community" said Avrek partner, Maryam Parman.
Contact Info:
Name: Marjorie Marr
Email: Send Email
Organization: Avrek Law Firm
Address: 9180 Irvine Center Drive
Phone: 919-455-1744
Website: http://www.avrek.com/
Source URL: https://marketersmedia.com/california-law-firm-launches-scholarship-contest-for-safer-driving/56785
Source: MarketersMedia
Release ID: 56785