Attorney Plaxen's leadership position of AAJ puts him on the path toward the Presidency of the country's largest trial bar of civil justice advocates.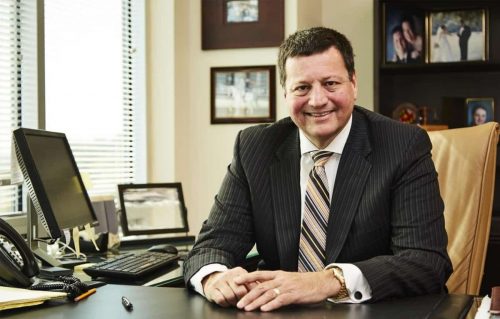 Columbia, MD, United States - July 16, 2020 /MarketersMedia/ — Bruce Plaxen, founding partner of Plaxen & Adler, P.A., was elected Parliamentarian of the American Association for Justice (AAJ) on July 13, 2020. Over the last 20 years, Mr. Plaxen has served in various leadership positions for AAJ, helping to strengthen its membership and promote its ideals in Maryland and throughout the country. Mr. Plaxen is the first lawyer from Maryland to hold an officer position in AAJ.
"My involvement with AAJ has had a profound effect on my life," said Bruce Plaxen. "AAJ has been instrumental in securing the rights of those in need, and in ensuring that our courtrooms are fair. Without AAJ, those who choose profits over people would run roughshod over the rights of others. They would make the laws and they would choose the judges. I am honored to be elected to AAJ Parliamentarian, and to help lead the fight to preserve and improve our civil justice system."
Mr. Plaxen was sworn in as Parliamentarian on July 15, 2020.
About the American Association for Justice
The American Association for Justice "is a broad-based, international coalition of attorneys, law professors, paralegals, and law students." Founded 74 years ago, AAJ "promotes justice and fairness for injured persons, safeguards victims' rights—particularly the right to trial by jury—and strengthens the civil justice system through education and disclosure of information critical to public health and safety."
As Parliamentarian, Mr. Plaxen will help lead AAJ into the future. He brings decades of experience in political advocacy and fundraising as the PAC Chair for the Maryland Association for Justice (MAJ), and has served on the Executive Committee for AAJ. Mr. Plaxen will work to ensure that AAJ is open and accessible to everyone.
"As an attorney and a member of AAJ, my goal is to ensure that individuals can obtain justice," Bruce Plaxen said. "As Parliamentarian, I will work to ensure that AAJ and state TLA members have the tools and resources they need to meet that goal, too. I do not want to ever imagine a world in which AAJ does not have the resources to protect and preserve the civil justice system."
About award-winning trial lawyer Bruce M. Plaxen
Bruce M. Plaxen opened the doors to his law firm in 1985. Over the last 35 years, that firm has grown exponentially, helping thousands of clients throughout Maryland obtain justice. Mr. Plaxen is rated AV-Preeminent by Martindale-Hubbell and was awarded the Distinguished Alumnus Award, given by the Nelson A. Rockefeller College of Public Affairs and Policy, for his pro bono efforts on behalf of injured families after the 9/11 terror attacks. This pro bono project, known as Trial Lawyers Care, was spearheaded by AAJ and is the largest pro bono in history. He has been named to Super Lawyers for 14 consecutive years, is a four-time winner of the Wiedemann Wysocki Award (2003, 2010, 2016, and 2020), and is the only two-time winner of the President's Award, presented by MAJ for exemplary leadership, vision, and unwavering commitment. He was named Maryland Trial Lawyer of the Year by MAJ in 2008 and honored with AAJ's Distinguished Service Award in 2017. He was the 2019 recipient of AAJ's Above & Beyond award, which "recognizes AAJ members who have made exceptional contributions to sustain and strengthen the organization."
Mr. Plaxen has served on the Board of Governors for MAJ since 1993. Under his leadership, MAJ's Membership Services Committee sustained significant growth, and was able to expand services to its members. He served as Chair of MAJ's Legislative Committee, fighting against tort reform and helping to pass dozens of pro-civil justice laws. Over the past 30 years, Mr. Plaxen has testified in front of the General Assembly in Maryland hundreds of times, and has maintained working relationships with Governors, State Senators, and State Speakers of the House. Since 2001, he has served as MAJ's PAC Chair.
Mr. Plaxen has also served in multiple leadership roles for AAJ, including:
• Organization Review Committee, Member, 2004 – present
o Chairman, 2013 – present
• National Finance Committee, Founding Member, 2010 – present
• Leaders Forum, Member, 2007 – Present
• AAJ Convention Planning Committee, Chair, 2007-2013
• PAC Taskforce, Member, 2010 – present
• PAC Trustee, 2012 – present
Mr. Plaxen also supports AAJ's caucuses, helping to establish the LGBT Caucus. He also supported passage of the Revitalization Governor Bylaws.
Plaxen & Adler, P.A. is a premier personal injury and medical malpractice law firm, which serves clients throughout the entire state of Maryland. The firm's attorneys focus on:
• Personal injury
• Medical malpractice
• Defective product litigation
• Social Security Disability
• Workers' compensation
Contact Info:
Name: Bruce Plaxen
Email: Send Email
Organization: Plaxen & Adler, P.A.
Address: 10211 Wincopin Cir, #620, Columbia, MD 21044
Phone: 410-730-7737
Website: https://www.plaxenadler.com/
Video URL: https://www.youtube.com/watch?v=1uCUXhdJfS8&feature=emb_logo
Source URL: https://marketersmedia.com/bruce-plaxen-elected-parliamentarian-of-american-association-for-justice/88968736
Source: MarketersMedia
Release ID: 88968736