Brendon Elliott Joins Thomas Steigerwald for New World Symphony Recital With Music by Harry Burlegh, Undine Smith Moore, Robert Russell Bennett, Stephanie Ann Boyd, Florence Price.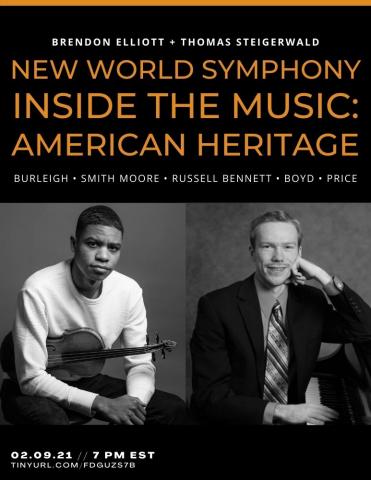 Ann Arbor, United States - February 9, 2021 /PressCable/ —
New York, New York, February 7, 2021 — Violinist Brendon Elliott and pianist Thomas Steigerwald, both fellows at New World Symphony, will be performing an exciting program of American music on Tuesday evening at Inside the Music: American Heritage, an online recital event. Music will include Harry Burleigh's Southland Sketches, Undine Smith Moore's I am in Doubt, Robert Russell Bennett's Selections from Hexapoda, Five Studies in Jitteroptera, Florence Price's Elfentanz, and Stephanie Ann Boyd's Amerigo, which Elliott helped to commission in 2016 as the Virginia commissioner of the 50 State Sonata Project. This event, sponsored by New World Symphony, will be live-streamed Tuesday evening at 7pm ET, and will be available online after the concert is over.
Amerigo, a six-movement work for violin and piano, was commissioned by Elliott and the other violinist-commissioners of the 50 State Sonata Project, a consortium involving violinists from nearly every US state. These musicians included conservatory students (Elliott was attending Curtis at the time, and now has degrees from both Curtis and Juilliard), concertmasters of state orchestras, and violin professors at state universities. Composed by Boyd in 2015, Amerigo takes audiences on an aural tour of the United States, each movement focusing on aspects of the topography/folk music/history of one of the time zones in the US, beginning in Hawaii and ending in Alaska. The project was inspired by the life and work of John Kendall, a pedagogue who helped to bring the Suzuki teaching method to America. When asked to describe Amerigo for concert-goers, Elliott remarked "I really enjoy the climaxes in each movement…the pacing of every movement is organic and unique, it unravels on its own but still leaves room for interpretation. Everything a musician can ask for!"
Five years after Boyd and Elliott first met to talk about the project and the piece, Elliott is bringing his version of Amerigo to the stage with the help of frequent recital partner, Thomas Steigerwald. A planned program of American music seemed the perfect place to bring Amerigo to his audience. "I remember when Stephanie contacted me out of the blue about being a commissioner of this work", Elliott said, "I was excited to have the experience of being one of the the first musicians to look upon the score! Now years later, I feel well equipped to present the various settings Stephanie has created with Amerigo."
Virginia native and third-year Violin Fellow at the New World Symphony, Brendon Elliott received his bachelor's degree from The Curtis Institute of Music, studying with Pamela Frank and the late Joseph Silverstein. He completed his master's degree at The Juilliard School under Sylvia Rosenberg and Ronald Copes. He began playing under his mother's tutelage at the age of three and made his solo debut when he was 10, performing a concerto with the Hampton University Orchestra. Since then, he has soloed with several professional and community orchestras. "Brendon's command of the violin and its history is quite literally masterful", Boyd said. "It's been thrilling to be able to work with him on this project and to join forces again at a time when we have even more artistry to give each other and the piece. It's been a fun and fulfilling journey."
Michigan-born, Manhattan-based American composer Stephanie Ann Boyd (b. 1990) writes melodic music about women's memoirs and the natural world for symphonic and chamber ensembles. Her work has been performed in nearly all 50 states and has been commissioned by musicians and organizations in 37 countries. Boyd's five ballets include works choreographed by New York City Ballet principal dancers Lauren Lovette, Ashley Bouder, NYCB soloist Peter Walker, and XAOC Contemporary Ballet's Eryn Renee Young. Eero, a ballet commissioned by Access Contemporary Music and Open House New York, was written for the grand opening of the TWA Hotel at JFK Airport. Stephanie's music has been praised as "a racing, brassy score" (New York Times) "attractive lyricism" (Gramophone), "[with] ethereal dissonances"(Boston Globe), "[music that] didn't let itself be eclipsed"(Texas Classical Review), "arrestingly poetic"(BMOP), and "wide ranging, imaginative"(Portland Press Herald).
More information on Virginia violinist Brendon Elliot can be found at: https://nws.edu/about/fellows/#f/brendon-elliott
More about composer Stephanie Ann Boyd can be found at: http://stephanieannboyd.com
More about this recital can be found at: https://www.stephanieannboyd.com/20210209
Contact Info:
Name: Shirley Miller
Email: Send Email
Organization: Femoire Media
Address: 517 Linden Lane, Ann Arbor, MI 48103, United States
Website: http://femoire.com
Source: PressCable
Release ID: 88996585