5 new grades of lightweight, refractory, insulating aggregates designed specifically for the high temperature refractory market now available.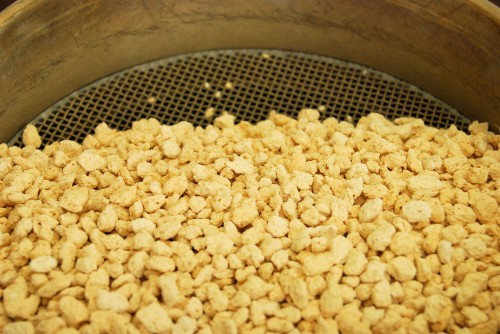 Denver, CO,, USA - - April 29, 2014 /MarketersMedia/ — BNZ Materials, Inc., a global supplier of refractories and structural insulating boards, constructs different types of specialty industrial insulation for petrochemical, electrical, aluminum, steel, ovens, glass, furnace, ceramics and fire protection. Their products are used in a variety of industries and for different application types. Their mission is to find new products or services which will lower their overall cost of manufacturing, installation and furnace operations for both themselves and their customer base.
BNZ has achieved this by constantly providing on-going technology improvements in their production processes and by forging new boundaries in insulating technologies to meet the growing needs of the industrial market. In the last 2 years, there has been a new development in the area of refractory insulating aggregates that changes insulating castable development. These new aggregates are the result of studying the various benefits and short comings of current aggregates being used in the refractory industry.
HYDRO-LITE Products
With the creation of HYDRO-LITE products, there are 5 new grades of lightweight, refractory, insulating aggregates designed specifically for the high temperature refractory market. These new aggregates of the HYDRO-LITE Family range in temperatures from 2300F to 3200F in 5 product ranges.
These products' refractory chemistries contain minimal impurities so they can be used in oxidizing or reducing conditions (CO) in different industries. Their low iron oxide contents and their low alkali contents are great benefits for high temperature performance and when thermal stability is required. Not only are these aggregates insulating and refractory, they are also hydrophobic or water repelling.
Another plus to the HYDRO-LITE products is that they provide lower densities as compared to a standard aggregate. Fired densities for HYDRO-LITE 23 can match competitive industrial castables where perlite plus other aggregates are used. The HYDRO-LITE 26, 28, 30 and 32 will open up new frontiers in lightweight and medium weight castables replacing higher density castables where the application really only needs a thermally stable composition. These products can provide the backbone of new product ranges to reduce the heat losses in industrial furnaces and lower the cost of installation by being able to be pumped and shotcreted into place.
This new technology is patent pending and will provide new avenues in product development in solving high temperature insulations and along with BNZ Materials range of products will continue to provide the service of innovation and product reliability to the refractory market. For more information on their many products, visit their public portal at www.bnzmaterials.com.
About The Company:
BNZ Materials, Inc. has 60 years of experience working with manufacturing insulating products for high-heat applications. They have worked with many different companies in different industries to provide high-quality materials. BNZ is best known as a global supplier of structural insulating boards and refractories.
Contact Info:
Name: Mark Carson
Organization: BNZ Materials, Inc.
Phone: (800) 999-0890
Source URL: https://marketersmedia.com/bnz-materials-offers-hydro-lite-for-high-temperature-refractory-market/42322
For more information, please visit http://www.bnzmaterials.com
Source: MarketersMedia
Release ID: 42322