Leading provider of CBD products, BlueJay Nutraceuticals, franchises Bloom Hemp Market, a retail concept for everything hemp to make a plethora of quality franchise solutions easily accessible to stakeholders in the industry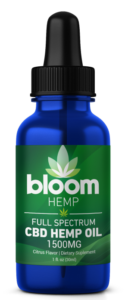 November 21, 2019 — BlueJay Nutraceuticals has gone a step further in their pursuit of seemingly disrupting the booming hemp industry as the company announces the franchising of Bloom Hemp Market. The move will make it possible for the different stakeholders in the industry to easily access the best possible products on the market. Bloom was created to offer a variety of franchise solutions, including retail brick and mortar, a mobile airstream solution, and a Bloom Vending solution.
The hemp market in the United States and other parts of the world seems to be breaking all possible records with more institutions realizing the benefits of the products. This has led to more nations legalizing the use of the substance in different capacities. According to the Hemp Business Journal, the Hemp industry in the United States produced about $820 million in revenues during 2017, growing to over $1 billion for 2018, and an expected 14% compound annual growth rate through 2022. However, studies have also revealed a relative difficulty in getting quality solutions from the plethora of products available. This is where the Bloom Franchise is looking to change the narrative by providing franchisees an opportunity to touch lives, promote wellness and be a leader in the market in the industry with high quality, innovative products.
The franchise is an opportunity for businesses to leverage the Bloom brand, consequently differentiating themselves in a competitive market by providing customers the full hemp experience and a one stop shop for their needs. Some of the solutions available include CBD products, hemp seeds, hemp clothing, and hemp textiles. The franchise is also available in different forms such as brick and mortar, mobile airstream, and vending solutions, while also providing franchisees with a training program with industry leaders who have a track record of success to prepare them for success.
The franchise also has an easy 7-step process to ownership, allowing interested businesses to be a part of the winning team with relative ease.
For more information about the Bloom Hemp Market franchise and join the life-changing team, please visit - https://bloomhempmarket.com/.
About BlueJay Nutraceuticals
Blue Jay Nutraceuticals products are all-natural Hemp Oil Broad Spectrum with over one hundred different organic compounds, botanical terpenes, and flavonoids. The company sources their ingredients from organic farms in Colorado and Oregon to provide customers with the purest genetics available. Blue Jay Nutraceuticals' proprietary Nano-emulsification technology guarantees that customers are getting the best results "to feel better naturally". The process begins with managing the entire process from seed to market, by maintaining a high concentration of CBD Hemp Extract Oil (CBG, CBN, etc.), terpenoids, amino acids, and essential oils.
Contact Info:
Name: Kyle Struebing
Email: Send Email
Organization: BlueJay Nutraceuticals
Website: http://bloomhempmarket.com/
Release ID: 88935192