Blue Sky Service is a general contractor in Raleigh that is leading the way in the rezoning of Hillsborough Street, contracted by the developers to provide a broad range of services.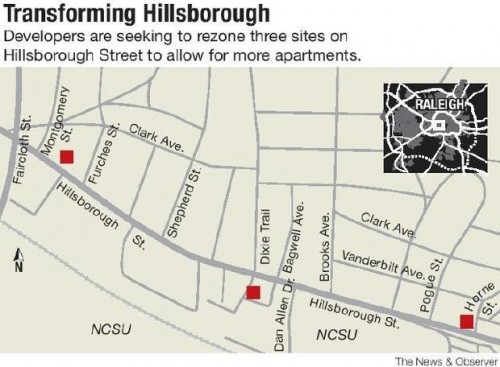 Raleigh, NC,, United States of America - - April 11, 2014 /MarketersMedia/ — In 2009, Raleigh adopted a new and exciting plan for urban development that concentrated development into key areas supported by funneling road networks to prevent much criticized urban sprawl. This high-density development requires a great many construction services to create a high density mixed residential and commercial area. Leading the way in these developments is Hillsborough Street, which is streets ahead of the rest thanks to the proactive approach of the primary contractor, Blue Sky Services.
The long-neglected thoroughfare that runs along the edge of N.C. State University has already been furnished with apartments for students and the general public, and has three more residential projects at the proposition stage, to be considered by Wade Citizens Advisory Council.
The larger project involves rezoning a 2.18-acre site between Montgomery and Furches streets, just east of where Hillsborough intersects with Faircloth Street, which must balance the interests of Cedar Fork Investments with those of the existing inhabitants.
Blue Sky's new commercial development in Raleigh comprises a five-story building with ground floor retail, no parking, and housing for up to 56 students, limited to 75 feet in accordance with the neighborhood Mixed Use guidelines. Blue Sky has led the development so far because they have experience in large scale and mixed use projects, public-private partnerships, urban infill, adaptive reuse, and innovative finance, and can handle everything from new build to interior remodeling.
A spokesperson for Blue Sky explained, "The Hillsborough Street rezoning led by Blue Sky Services represents an exciting opportunity for the citizens of Raleigh to reinvigorate their city in their own way, and we want to continue pushing forward the growth of the city to put the recession firmly behind us, creating futures for students, professionals and of course, building contractors like ourselves. More information on our proposals can be found on our website, and we are confident the Wade Citizens Advisory Council will see the advantages of what we have planned, and the care we have taken to preserve and augment the region they, and we, call home."
About Blue Sky Services:
Blue Sky Services is a developer of distinctive and diversified real estate projects in select North Carolina core markets. They create value for customers, and use sustainable practices, taking a long-term investment perspective into each project. The collective skill, creativity and experience of their associates forge unique capabilities as a company in the development, remodeling, ownership and management of distinctive real estate.
Contact Info:
Name: Ian Hart
Organization: Blue Sky Services
Phone: 9197430030
Source URL: https://marketersmedia.com/blue-sky-services-lead-hillsborough-street-rezoning-with-new-commercial-development/40054
For more information, please visit http://www.blueskyservices.com/
Source: MarketersMedia
Release ID: 40054