Blockchain Center Miami and Bits And Tokens are pleased to announce Art x Tech, a one of a kind immersive art experience that will premiere at the 18th edition of the Art Basel week.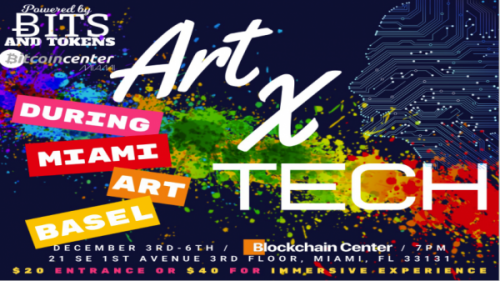 Miami, United States - November 26, 2019 /PressCable/ —
Miami, FL – The Blockchain Center Miami and Bits And Tokens are pleased to announce Art x Tech, a one of a kind immersive art experience that will premiere at the 18th edition of the Art Basel week show this December.
Curated by ATO Gallery and multiple independent blockchain artists, Art x Tech will exhibit artists from around the world presenting acclaimed works in various mediums such as painting, sculpture, sustainable installations, live performances, and film and video projections. This tech center in downtown Miami is covered in Art throughout the year and is opening to the public for Art Basel. This space is very special to the community. Not only is it tech-centric, but it is the only dedicated blockchain education space in the state of Florida.
The new location – a result of the extensive refurbishment of the redevelopment of downtown Miami by Moishe Mana's group enables the blockchain community to introduce a non-traditional perspective, a new sector for artworks that push the boundaries of the traditional art fair layout.
"We are fortunate to have a long list of accomplishments and various successful events hosted already," said Eryka Gemma, Cofounder of the Blockchain Center and CEO of the Bitcoin Center Miami.
Technology Disrupts the Distribution of Art
Technology is providing artists with innovative ways to express themselves. Simultaneously, blockchain is changing the art market by decentralizing, encrypting and securing artist content.
Science is merging with art to create an entirely new experience for both the artist and the viewer. In the future, we can expect this to change even more as we explore the intersection of creativity and technology.
Throughout time, the greatest technology innovators have arguably been artists; these creators of "something new" has altered our experience of reality.
Art Basel is a perfect time to showcase this shift, this event, in particular, is highlighting the merging of worlds. Immerse yourself in a mixed reality where there are no limitations to creativity – physical or digital. If you are in Miami for Basel, check out a gallery unlike any other to date presented by the Blockchain Center Miami & Bits and Tokens.
Exhibiting artists: ATO Gallery, Ben Ridgeway, Artist Sei Shimuru, Ben Katz, Lucho Poletti, Sofia Maria Paz, Oliver Schibli, Jasna Barisic, Alice McLaughlin, Andrea Musa, Elisa Rossi, Wendy Atlin, Daniel Mirante, Vincent Wang, Johnny Dollar, VASA, Craig Hamilton, Alex Moor, Rani Karnick, Nina Switel, Soleil River Nation and many more.
Family Friendly
Between educational talks about the intersection of blockchain and art, fun workshops, VR gallery tours and original art by international artists, there will be something for everyone here.
We know that the traditional art industry is lacking innovation, diversity, and awareness on pressing topics that are important to artists and collectors such as the intersection of blockchain technology, Artificial Intelligence, and other newsworthy topics. We will bring creatives and entrepreneurs together to enlighten and be a catalyst for change.
We expect a large audience of over 2,000 attendees* throughout the week. The gallery is open at 11 am for viewing and VR. At 7 pm the live performances, hands-on experiences, and Virtual Reality tours will start.
Carrie Eldridge, Founder of ATO Gallery, said: " There is no doubt in my mind that technology is going to play a major role in the art market. Anytime there is a new technology introduced to an industry it is found with resistance from the incumbents. We are seeking to ease the art market into this technology through immersive experiences and to show them that it's not going to take away from the art, but it's going to add to it, just like how technology has progressed mankind for centuries. We are on the horizon of changed and it's a very exciting time to be in the art market. I'm proud to be a part of this and help the Blockchain Center which is an incredible dedicated space for blockchain creators and entrepreneurs. The fact that they have such a strong focus and ethos to help artists within is both unique and profound."
Eryka Gemma, Bitcoin Center Miami, Chief Executive Officer, said: 'We are extremely excited to introduce Art X Tech to our upcoming Art Basel show this December. The traditional art scene does not account for the immense collaborations happening between tech and art. This event focuses on highlighting work from tech companies, creatives, and change-makers. We're highlighting innovation in the art industry that is often ignored although it has the largest consumer potential. – this initiative heralds an exciting new chapter for The Blockchain Community in Miami.
Partners
About The Blockchain Center Miami
Founded in 2019, The Blockchain Center Miami is dedicated to providing beginner to expert level blockchain education and bringing comprehensive education courses to support the crypto economy.
Strategically located in downtown Miami's business district, the center is the hub of the Americas for developers, entrepreneurs and investors to learn and network on the topics of blockchain, cryptocurrencies, and digital assets.
To learn more about The Blockchain Center Miami visit www.blockchaincenter.com
About Bits and Tokens
Bits And Tokens is South Florida's fastest-growing media company and the premier content creation team for some of your favorite crypto influencers and blockchain companies. A team of three, "BNT", as their friends and colleagues call them, delivers the highest quality video, print, and virtual reality experiences possible by leveraging existing and emerging technologies. BNT also hosts events and conferences in the blockchain space, with a focus on education and collaboration between event-goers and presenters.
To learn more about Bits and Tokens visit www.BitsAndTokens.com
Gallery Dates and Times
Tuesday, December 3, 2019, to Friday, December 6
Gallery Opens: 11am – 7pm
Panel Discussions: 7pm – 10:30pm
Pre-pay for parking through RSVP link
To RSVP go to:
https://www.eventbrite.com/e/art-x-tech-tickets-81863396623?aff=ebdssbdestsearch
For a full list of blockchain events during Basel visit: www.bitcoincenter.miami/upcoming-events
For more info please contact:
Maria Sabando at maria@blockchaincenter.com
Annalese Abreu at annalese@bitsandtokens.com
Media Contact: Remy Aquino-Nation at pr@remynation.co
Contact Info:
Name: Eryka Gemma
Email: Send Email
Organization: The Blockchain Center Miami
Address: 21 SE 1st Ave, 3rd Flr., Miami, Florida 33131, United States
Website: https://www.blockchaincenter.com/en/
Source: PressCable
Release ID: 88935567