A new cultural event called Green Friday is aiming to counteract frivolous consumerism with charity and wise spending.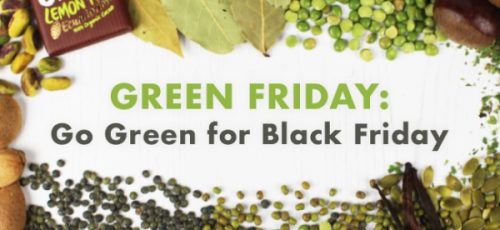 Minster, Ramsgate, United Kingdom - November 23, 2017 /PressCable/ —
'Buy Whole Foods Online Ltd' and Greenfingers Charity are launching a campaign to challenge the consumer culture of Black Friday across the UK and Europe. Amid the year's biggest global shopping spree, the 'Green Friday' movement is encouraging consumers to donate their online discounts to charitable causes, get outdoors and stay healthy.
In traditional Black Friday style, Buy Whole Foods Online (BWFO) customers will be able to get a 10% discount off of their wholefood shop. However, their Green Friday initiative will give customers 3 main opportunities: to get 10% off their entire shopping basket, to donate half of this discount to charity or to donate the entire 10%.
"We want to change the way people approach this time of year", BWFO founder Joe Cooper said. "Black Friday is broadly about hunting for deals and discounts on material goods, often frivolous spending and sometimes even violent shopping incidents. Green Friday is meant to be an antidote! It's about giving, sharing, charity, family, health and getting out in nature."
To put this campaign into action, BWFO searched for charities that reflect both their ethos and the values they would like to see more widely promoted in society. They found Greenfingers Charity: a Buckinghamshire-based organisation which creates therapeutic gardens, playgrounds and outdoor spaces for children in hospices.
"Greenfingers just seemed like the perfect partner for this," explained Joe. "With so many of us on phones, tablets and laptops daily, it can be easy for us not to connect with nature and all things healthy."
"Of course the 10% Green Friday campaign gives people completely open choices", admits Joe Cooper co-founder of both BWFO and the Green Friday movement. "But choice is a key part of what we would like Green Friday to stand for: making more holistic and positive choices – rather than indulging in impulsive or possibly damaging forms of consumerism."
Organisers of the Green Friday campaign hope to raise around £10,000 for the hospice care charity, while helping to forge a more positive relationship between consumers and their world at this time of the year.
The Green Friday offer will run from Friday 24th November until 11.59pm on Monday 27th November. The amount raised by the campaign will be announced on both BWFO's website and GreenFriday.org.uk next week.
For more information about the ethos and activities of the partnering organisations visit buywholefoodsonline.co.uk/green-friday or greenfingerscharity.org.uk. For information on the Green Friday Movement, visit greenfriday.org.uk.
Contact Info:
Name: BWFO Support
Email: Send Email
Organization: Buy Whole Foods Online
Address: Units B1 & B2, Channel View Estate Laundry Road, Minster, Ramsgate, Kent CT12 4HY, United Kingdom
Phone: +44-800-043-1455
For more information, please visit https://www.buywholefoodsonline.co.uk
Source: PressCable
Release ID: 267807