BioAntler produces a natural performance enhancer that boosts IGF-1 using deer antler velvet and other key ingredients, which has proven so popular with professional athletes and bodybuilders that it's now available worldwide.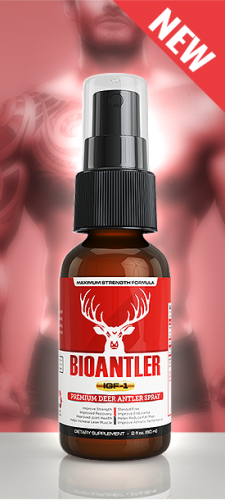 San Francisco, CA,, United States of America - - April 14, 2014 /MarketersMedia/ — Performance enhancers operate on a fine line, with some considering them cheating and others considering them enablers toward maximizing human potential. Athletes are very strictly regulated in what performance enhancers, if any, they are permitted to use, and artificial and synthetic chemical additives are banned. However, BioAntler have recently been able to boost high concentrations of the IGF-1 hormone using deer antler velvet & other key ingredients ethically and effectively, which has been found to stimulate muscle tissue growth and maximize protein synthesis.
Deer Antler Spray's popularity has grown such that professional athletes like Ray Lewis have been assessed of using it and because of its natural source, it has not been declared illegal, treated more as an optimizer than an illegal enhancer. Due to its popularity, BioAntler have now made their product available worldwide, with shipping to any country in the world.
The supplement is steroid free and improves endurance, protein absorption and conversion to muscle, improves recovery and increases strength to help athletes and fitness nuts get the very best from their training and help them make better gains toward the body of their dreams. BioAntler also have special offers including buy four, get two free and buy two, get one free to encourage people to stock up.
A spokesperson for BioAntler explained, "We are offering our product worldwide because we want everyone to experience the performance benefits and want to make sure that people aren't spending their money on bootleg products which are unethically sourced and of poor quality. Our products are used by world-class athletes to provide them with a natural and legal edge in their sports performance, providing the ultimate form of endorsement for anyone who is looking to increase their strength and endurance and reduce their recovery time, anywhere in the world. Users can simply order from the website as normal and enter their details to get information on shipping costs for quick delivery."
About BioAntler:
BioAntler is the ultimate supplement for bodybuilders and athletes looking to build muscle and recover faster: a revolutionary Deer Antler Velvet Spray Supplement that helps boost IGF-1 (Insulin-like Growth Factor-1). BioAntler was formulated to cater specifically to the needs of high performance athletes and bodybuilders looking to maximize their training and recovery.
Contact Info:
Name: Joe Bragg
Organization: Brandoutreach
Phone: (415) 632 1664
Source URL: https://marketersmedia.com/bioantler-natural-performance-enhancer-now-available-worldwide-as-popularity-soars/40279
For more information, please visit http://www.bioantler.com/
Source: MarketersMedia
Release ID: 40279