Throughout July and August authors of Selling on the Green, a bestselling book on selling using the game of golf, are donating 100% of the profits from sales to "Folds of Honor" – an organization providing scholarships to family of fallen and disabled service members.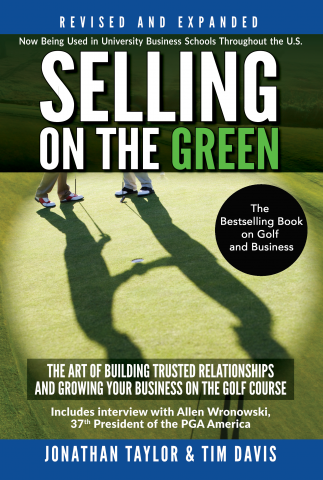 Knoxville, United States - July 26, 2017 /PressCable/ —
Selling on the Green is a bestselling book dedicated to sales executives, business owners, and consultants who want to build stronger client relationships and accelerate sales growth through the game of golf. And during the month of August, the authors are donating 100% of the profits from book sales to the "Folds of Honor" – an organization that provides educational scholarships to spouses and children of America's fallen and disabled service-members. Allen Wronowski, one of the contributors to this book, served as the 37th President of the PGA of America from November 2010-12. He is also the Director of Golf Development & Relations for the Folds of Honor Foundation.
Sales executives today are coming face to face with a cold hard fact: what once gave them a competitive edge – product knowledge, better technology, problem solving skills, and a great presentation, —no longer guarantee success. In today's world, the ability to sell ideas, products or services will rely on building stronger relationships with clients and prospects. People buy from those they know like and trust. The problem today is there are so few opportunities to build trusted connections.
In an age where relationships are built through social media connections, texts, and emails, there is something different about a game that takes individuals away from the digital noise and allows them to connect one-on-one for three or four hours. As the book explains, there are few environments better for building those relationships than 18 holes on the golf course with a client or prospect.
Selling on the Green provides insights from some of today's top business professionals and executives on how they have developed client relationships through the game of golf. They share lessons and stories that can benefit the novice and experienced golfer alike. No matter what skill level a person may have are, they can succeed if they know the rules of the game, and focus on building rapport. The lessons are proving valuable enough that University business schools are now using Selling on the Green as a text in their business programs.
The book focuses on how business professionals today can use the game of golf, regardless of skill level, to build stronger relationships with key influencers and decision makers in their industry.
Larry Jackson, CEO LoudMouth Golf says, "Selling on the Green explains the many ways that business needs golf today. This book is a pleasure to read, along with being invaluable to business professionals who want to build strategic business partnerships"
For more information about Selling on the Green, visit www.sellingonthegreen.com or email Jonathan at Jonathan@SellingontheGreen.com. Jonathan Taylor is the founder of Buzz Mountain Media, and the author of four books on sales & marketing including the bestselling book Launch It!. Tim Davis, aka The Marketing Evangelist is an author and speaker on the topics of marketing, sales and leadership.
Contact Info:
Name: Jonathan Taylor
Organization: Buzz Mountain Media
Address: 2042 Town Center Blvd, Knoxville, TN 37922, United States
Website: http://www.SellingOnTheGreen.com
Source: PressCable
Release ID: 220550