As social distancing measures continue into May, many people are turning to Sudoku as a new form of entertainment needs. The Sudoku Professor released an updated course for newer or novice players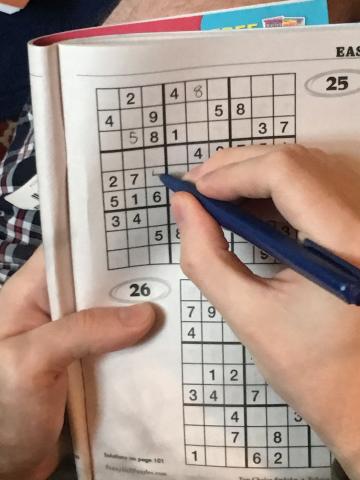 Raleigh, United States - April 28, 2020 /NewsNetwork/ —
As social distancing measures continue around most of the globe, Sudoku is a single player game seeing increased popularity as people turn to new sources of entertainment and mental engagement. To help players new to the game, The Sudoku Professor has announced a new set of lessons for beginners and novice solvers.
More details about the lessons can be found here: https://www.sudokuprofessor.com/s/sec-7br9/
The newly updated lessons focus on techniques and solving methods that cater to newer players. They include video lessons, walkthroughs on solving, and puzzles to complete along with the included tutorials. These resources are available within an online members area
The Sudoku Professor is a popular online learning resource for players of the game. According to the company's Facebook page, they have helped more than 150,000 students to learn the fundamentals of the game using their programs.
The company, which has been around since 2008, offers a plethora of lessons, courses, YouTube videos, and even a private players club with a puzzle library exclusively for members.
"The best thing about Sudoku is that it can be fun and challenging at any age," says Chad Barker, known online as The Sudoku Professor. "And as many more people discover Sudoku, we have seen a huge increase in popularity of our lessons and tutorials."
Sudoku is a game that uses the numbers 1-9 in a series of rows, columns, and boxes in unique arrangement across 9 separate grids forming 1 complete puzzle. While the game uses numbers, it does not involve math.
The game is a popular addition to many newspapers or magazines and is readily available to play for free online. The sheer volume of available puzzles makes for an endless supply of entertainment as social distancing measures related to COVID-19 continue to impact many around the world.
"The biggest misconception about solving Sudoku is that it requires some sort of math or complex understanding of numbers," added Barker. "Students of [The Sudoku Professor's] lessons learn how to use simple logic and reasoning to solve every solvable Sudoku – no math necessary!."
To sign up for the new lessons, visit the url above.
More information about The Sudoku Professor can be found by visiting the company's website here: https://sudokuprofessor.com
Contact Info:
Name: Chad Barker
Email: Send Email
Organization: The Sudoku Professor
Address: 4112 Campbell Road, Raleigh, North Carolina 27606, United States
Website: https://sudokuprofessor.com
Source: NewsNetwork
Release ID: 88955378