BBQ Champs Academy is celebrating the launch of World Championship Backyard BBQ Classes online by offering 75% Off their All Access Backyard BBQ Cooking Class Package. Further information can be found on the URL's above.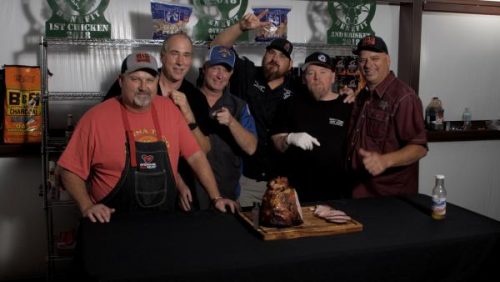 Shreveport, United States - November 29, 2019 /NewsNetwork/ —
BBQ Champs Academy is excited to announce the launch of it's newest collection of barbecue videos, "Championship Backyard BBQ Classes." These classes feature 20 unique recipes, taught by 5 World Champion Pitmasters. Each class is simply to follow and easy to understand showing you step by step detailed instructions. All the BBQ classes are shot in 4K Ultra HD where you will have access 24 hours to watch, pause, go back and re-watch at your leisure until you master each recipe.
BBQ Champs Academy is at the forefront of utilizing the video technology today by offering detailed videos on how to cook BBQ.
When it comes to cooking barbecue would you not want to learn from the best? BBQ Champs Academy has some of the best Pitmasters in the world cooking these BBQ recipes. Mark Lambert, is a 6 time World Champion, including winning 4 World Championships at Memphis In May. Joey Smith is the 2019 Houston Livestock and Rodeo World Champion. Lee Hickel is the 2019 International Barbecue Cookers Association Cooker Of The Year. Craig Sharry is a 2 time World Champion at the Houston Livestock and Rodeo Show. And Sterling Smith is a 3 time World Champion with wins at the American Royal, Jack Daniels Invitational, and a Brisket World Champion in Australia. These World Champion Pitmaster will show you how to cook the most amazing BBQ you have ever had.
"We're thrilled to have some of the biggest names in BBQ competitions sharing all their recipes, methods, strategies, and techniques they use to win on the BBQ circuit. TV shows like BBQ Pitmasters, Smoked and BBQ Brawl have created a tremendous interest in backyard BBQ cooking in the last 5 years. So many people ruin BBQ by simply not knowing the rubs to use, how to use a grill or smoker and the proper techniques of cooking barbecue. We are going to change that with our 20 Championship Backyard BBQ Classes, which is set to launch November 29th, 2019. We are celebrating the launch of these 20 BBQ classes by offering them at 75% off our All Access Championship Backyard BBQ Classes, says Mike Steele, founder of BBQ Champs Academy".
To find out more about these 20 tell-all online BBQ classes visit: https://bbqchamps.com/championship-backyard-bbq-classes/
BBQ Champs Academy has always thrived on the idea of standing out and doing business a little different. It's all part of the fun you have while cooking BBQ with family and friends. There is no better way to learn then from a group of World Champion Pitmaster in these easy to follow instructional videos. This launch celebration is just one of the many ways BBQ Champs Academy achieves that goal.
When asked about the new videos of Championship Backyard BBQ Classes, Mike Steele said, "We think it's going to be a real hit because this is completely unique and never been done before. We know our customers have been waiting for this type of BBQ information to come to market. When you look at the 20 different recipes we are teaching you will understand just how unique these recipes are. They are not just some run of the mill recipes. It should be really worthwhile for the barbecue enthusiast of any level from beginner to experienced Pitmaster. We're hoping to let the entire world know about these amazing BBQ classes taught by our World Champion Pitmasters."
For further information about all of BBQ Champs Academy tell-all BBQ classes visit them at: https://bbqchamps.com/
Interested parties can find more information by visiting the above mentioned website.
Contact Info:
Name: Mike Steele
Email: Send Email
Organization: BBQ Champs Academy
Address: 10092 Riding Club Lane, Shreveport, LA 71118, United States
Website: https://bbqchamps.com
Source: NewsNetwork
Release ID: 88936304